A special educator for special kids
Despite being thrown into the deep end 14 years ago with a posting to a school for children with severe intellectual disabilities, Shi Xiaojing overcame the odds to become a champion for these individuals.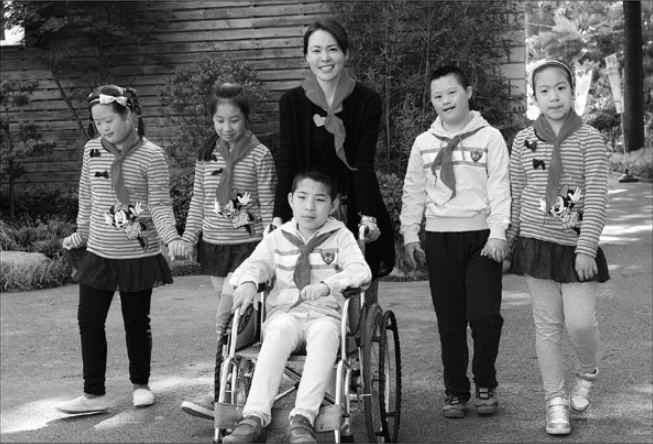 Shi Xiaojing started her teaching career 27 years ago as an English teacher at Meilong Central Primary School before working at Xinmei Primary School in Shanghai's Minhang district.
Her career was progressing smoothly. In fact, she was even promoted to the dean of studies and assistant to the headmaster at Xinmei Primary School. In 2005, when the former principal of Qizhi School retired, the district's education authority assigned Shi to be its successor.
While this might seem like a natural career progression, it was one that marked the beginning of a new but uncomfortable journey for Shi - one that revolved around teaching kids with severe intellectual disabilities.
"It was difficult in the beginning. I didn't know what to do when children had emotional episodes during class. But I set a goal of understanding the needs of every child within six months," said Shi.
Every morning at 7:10, Shi waited for the school bus to arrive at the gates before welcoming every student, a gesture that few principals do. She also made it a point to observe classes, read publications on special education, consult former principals of the school and attend training sessions.
Six months into this new role, Shi met one of her students at a mall when queuing up to buy moon cakes for the Mid-Autumn Festival. The boy was so excited to see her that he yelled her name as he ran across the mall.
"I can still remember the weird stares that the people in the mall were giving him," she said.
"At that moment, I made a promise to myself that I would do my best to foster the acceptance and inclusion of children with mental disabilities."
Today, 14 years after that posting to Qizhi School, Shi has gone on to become a key figure in the special education scene in China. She has also won several awards for her contributions, such as the National Special Education Award in 2013 and the Shanghai Labor Medal in 2018.
"Children with intellectual disabilities have the right to education, dignity and hope in life just like everyone else. I hope to help them, encourage more people to understand them, and to ease the burden on their families," she said.