Experts face hurdles in observations of habitats
Share - WeChat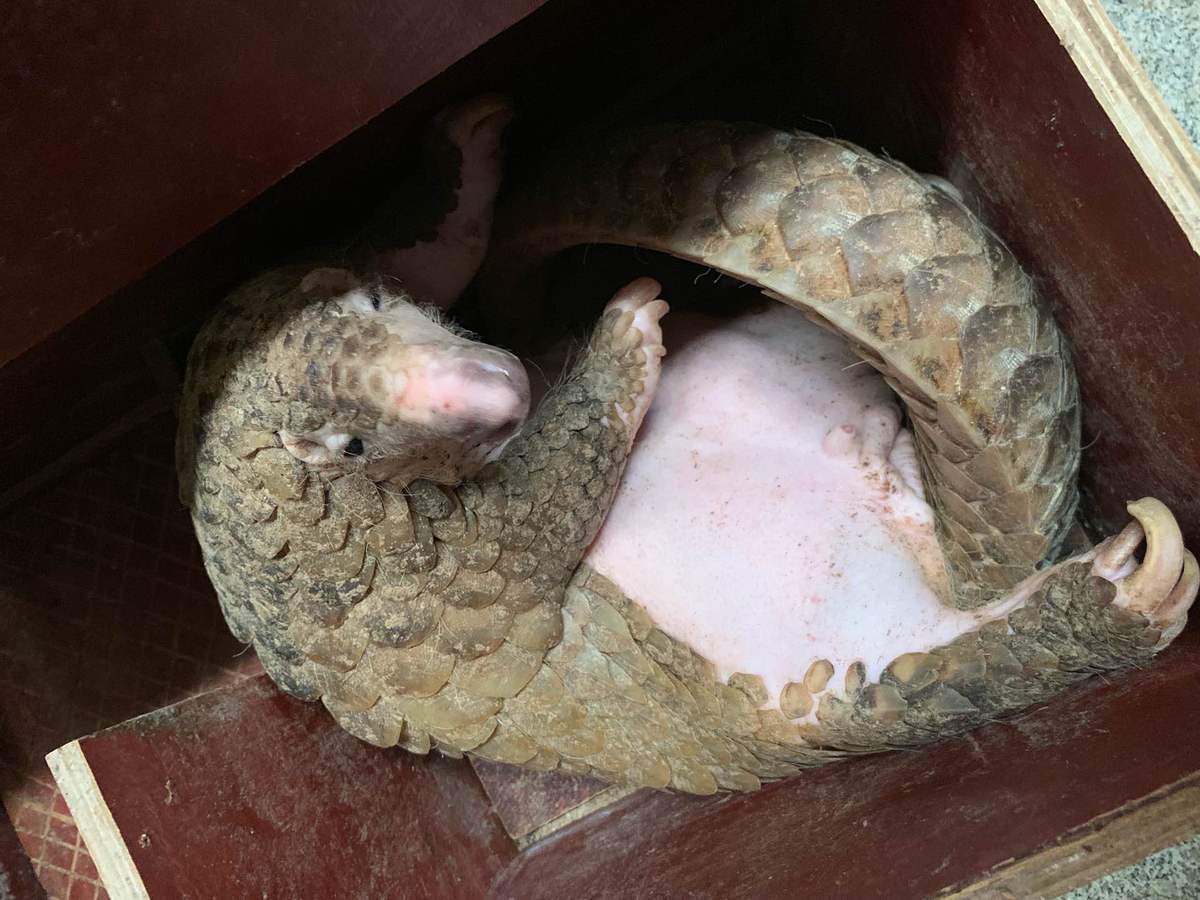 There are no records of the Chinese pangolin breeding in captivity, and most people remain unaware of the creature's existence until they read reports that it is threatened with extinction.
Wu Shibao, a zoology and ecology professor from South China Normal University in Guangzhou, Guangdong province, said, "Scientific study of the Chinese pangolin is still at a very early stage and there are only about 30 experts nationwide who know the species well."
Under China's Wildlife Protection Law, wild animals that are saved should be released into the wild after they recover, according to Wu. "But this makes long-term studies of the species' living habits and reproduction impossible," he said.
While scientific observation of the Chinese pangolin is still difficult, Sunda pangolins rescued from smugglers have given scientists the chance to conduct research into saving the species from extinction.
This month marked two months since the birth of a Sunda pangolin at the Pangolin Research Base for Artificial Rescue and Conservation Breeding in Nanning, Guangxi Zhuang autonomous region.
The male is a third-generation captive-bred Sunda pangolin at the base.
Yan Dingyu, the senior engineer who heads breeding trials at the base, said, "We hadn't seen any reports or research papers on the successful artificial reproduction of the Sunda pangolin for more than two generations. Our experience will be crucial in saving the critically endangered species from extinction."
In addition to the newborn, the research base, established in 2012, currently has 38 Sunda pangolins, with 20 wild ones saved from cross-border smugglers. Two of these later gave birth to two babies. Thirteen of the rest are first-generation animals born through artificial reproduction, while the other three are second-generation animals.
"Pangolins are very sensitive and find it difficult to adapt to environmental changes," Yan said. "Also, they have highly specialized diets, including ants and termites. Under conditions in captivity, it is very difficult to provide a sufficient amount of the natural foods they need."
Through years of study, Yan developed a special artificial food - a mixture of ants, termites, insects, worms and animal bones, as well as plants. Proportions of the ingredients had to be adjusted several times before digestion tests showed the diet had been a success.
Providing the pangolins with a comfortable environment is another challenge. Yan said the creatures usually dig holes in the wild, and the depth and location of a hole can determine the temperature and humidity level inside. Sometimes, they will move from one place to another for a cleaner environment and to prevent infection from disease.
The research team designed a special air-conditioned home with a small iron cage above the ground as a room for the animals to rest in. There is also an underground activity room occupying about 2 cubic meters.
But Yan said that due to a lack of money, such conditions can only meet the basic requirements needed to keep the pangolins alive. The base has only received 600,000 yuan ($86,780) in financial support from the government in the past seven years.
The same problem is being experienced at the Wildlife Rescue and Care Center in Changsha, Hunan province. Since late 2017, the center has rescued 60 live pangolins seized from smugglers by customs officers.
However, many died just a few days after being saved, according to Li Li, a researcher from the center.
"The smugglers force-fed the pangolins with cement and plaster to increase their weight in order to get a higher price. It is impossible for most pangolins to survive such forced feeding," he said.
Sixteen pangolins have been saved, according to Li. But their habitat in captivity cannot match that in the wild. All of them are housed in large cages bought originally to accommodate other wild animals temporarily. Each cage is no larger than 3 cu m and there is no underground area.
"We need more support to improve their living conditions by building better homes for them and providing them with a much friendlier environment, similar to that in the wild. This will be very beneficial, not only for their physical but also their physiological health," Li said.
Yan, from the Guangxi base, said it will cooperate with wildlife experts from Beijing Forestry University next year in conducting further research into pangolins' physiological condition to gain a better understanding of the species.
"If the State Forestry and Grassland Administration grants permission, we will very likely launch a pilot plan to prepare some pangolins for a return to the wild next year. Hopefully, we will see further success soon," he said.