From glitzy casinos to quality tourism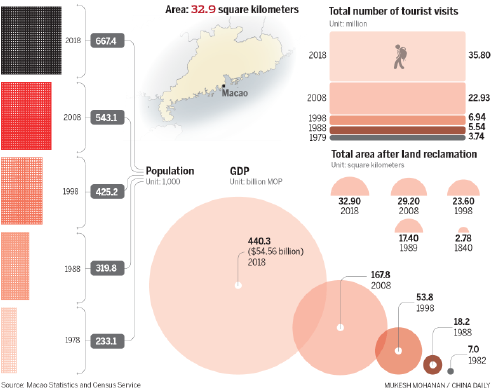 Language advantage
As a former Portuguese colony, Macao enjoys language advantages and has well-established ties with nine Portuguese-speaking countries across four continents with populations totaling 260 million. The emerging trade ties between China and the Portuguese-speaking countries have made Macao vital to taking cooperation to a new level.
Official data show that China's direct investment in Portuguese-speaking countries reached $399 million in 2016, a jump of 263.7 percent from 2015.
The SAR could help mainland enterprises import materials such as crude oil and agricultural products from Portuguese-speaking countries which have abundant natural resources, said Ma Youli, president of the Macao Chamber of Commerce.
Macao could also help those enterprises develop markets in South America and Africa, where major Portuguese-speaking countries are located, he added.
Efforts are also being made to better play out Macao's role as a platform for bilateral cooperation. In 2017, the headquarters of the China-Portuguese-Speaking Countries Cooperation and Development Fund was relocated from Beijing to Macao.
On Aug 25, Ho Lat-seng, former president of the Macao Legislative Assembly, was elected chief executive of the Macao Special Administrative Region. He will succeed Fernando Chui Sai-on as the third chief executive of Macao, pending approval by the central government.
He said the new administration will prioritize housing and transportation, two deep-rooted problems the SAR faces, and that the new government will intensify cooperation with mainland cities to attract talent.
With new roles at hand and a new chief executive eager to get to work, Macao is poised for a brighter future.