Tiger recaptured after escaping circus later dies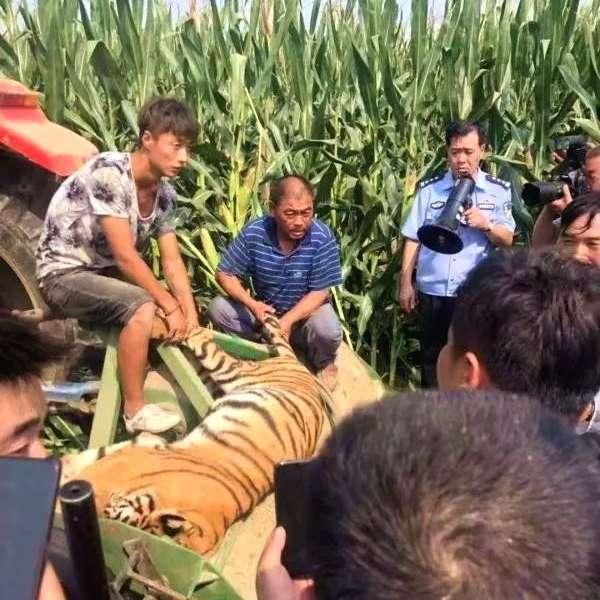 A tiger escaped during a circus performance in Xinxiang, Henan province, on Friday night. It was recaptured on Saturday, but was later found dead, local authorities said.
The circus, whose name was not revealed, was not certified to use wild animals and did not have the registration for the show on Friday night, according to local authorities.
A preliminary investigation found that the circus came from Anhui province.
The circus' two tigers and other animals used for the performance were rented from a tame animal group in Suzhou, Anhui province, for one year.
The tiger escaped from its cage and ran into a cornfield. It was caught by local police with the use of an anesthetic on Saturday morning. The tiger caused no damage and injured no one during the period.
Authorities from Yuanyang county, where the performance was staged, said that the tiger was hit by a car, but it was apparently fine when it was captured.
The tiger was confirmed dead after being sent to the Xinxiang zoo. The cause of death has yet to be determined.
The circus' other animals are in good condition.
Police have detained two people in charge of the circus on suspicion of several violations, including a lack of qualifications to use wild animals for entertainment purposes. A joint working group will investigate the cause of the tiger's death and whether there were problems with the rental process.
Sun Quanhui, a scientist from the World Animal Protection, said that most of the animal shows are for profit and are intended to entertain tourists. Such performances often go against the animals' nature, and frequent shows seriously harm their physical and mental health.
There is no legislation to prevent animal abuse or protect animal welfare in China, and related policies have not been fully implemented. At present, the ministries of forestry, agriculture, housing, and cultural tourism are involved in the supervision of animal performances, Sun said.
"Wild animals may be tamed, but they will never be domesticated, so their wildness may break out at any time, bringing great safety risks to both animals and audiences," Sun said.
He added that tourists' demand for animal performances encourages the capture and captive breeding of wild animals, which not only threatens the survival of species in the wild but also exacerbates animal cruelty.
China's cultural management agencies have no prohibition on wild animal performances, but circuses must get approval from local authorities before public performances, Li Pengfei, who is in charge of Guangyuan circus in Sichuan province, told the Cover, a news hub.
According to Li, Anhui province is currently home to the largest number of captive tigers for circus performances. Some circuses in Anhui are experienced in training tigers for performances.