2 sentenced in kidnapping, killing of 9-year-old
Share - WeChat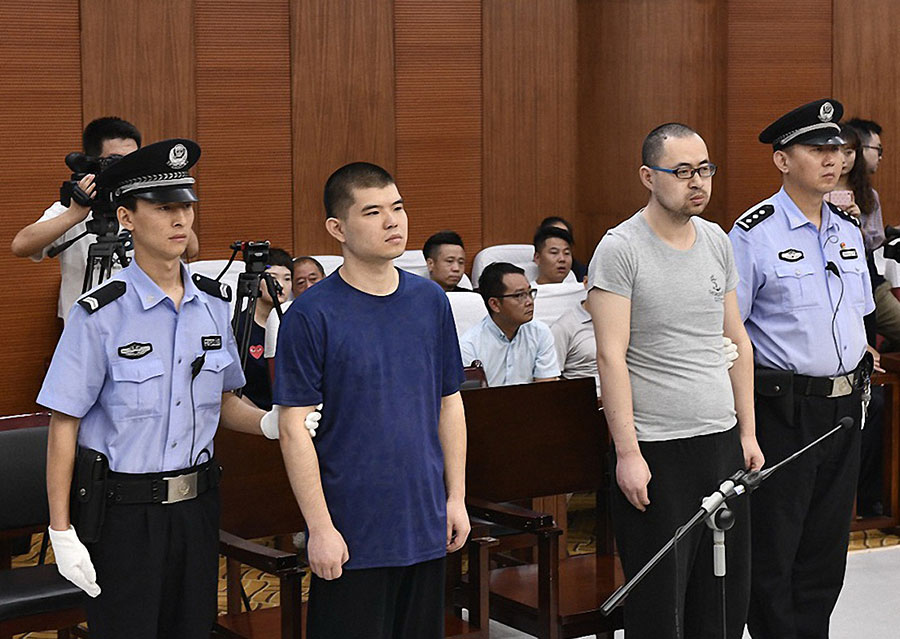 Two kidnappers in Xi'an, Shaanxi province, were given sentences of death and life imprisonment on Monday for kidnapping and killing a 9-year-old boy in their neighborhood. The kidnappers plan to appeal, a local court said on Monday.
The two men had all their personal property confiscated and were ordered to pay compensation of about 44,000 yuan ($6,170) to the victim's family, according to the verdict.
On the night of May 2, 2018, a 9-year-old boy went missing from his apartment in downtown Xi'an. His family posted a missing notice in the neighborhood's online chat group. After search, the boy was found in a passageway near the roof of the building. He died after being sent to hospital.
Not long before the boy went missing, at the end of April last year, defendants Ling Yuanjie and Zhao Yuhao had attempted to kidnap a girl in their neighborhood. Ling promised to give Zhao some of the ransom money to buy a mobile after the plan succeeded.
On May 2, Ling decided to change the kidnap target to the 9-year-old boy, who lived in the same building as him. At 8 pm that night, he told Zhao his plan on the phone.
Ling tore a sheet to cover his face and went alone to the boy's home on the 22nd floor. He took the boy to his home on the seventh floor and asked the boy to call his mother for ransom, but the boy did not call and attempted to escape by fleeing the apartment, the court said.
After catching the boy, Ling pounced on him and pinned him down for several minutes until the boy stopped struggling. Ling concluded that the boy had suffocated and dumped his body in an empty space between the top floor and the roof, it said.
To eliminate traces of crime, Ling removed the boy's clothing and called Zhao, telling him that the kidnapping was complete. He asked Zhao to help wipe fingerprints and remove other traces left in his home.
Forensic investigation revealed that the victim died of suffocation as a result of his nose and mouth being covered, according to the court.
The court said the two had kidnapped people to extort money and killed the kidnapped boy, and as a result they should be punished for the crime of kidnapping. The sentences were given according to the roles of the defendants in the crime, the facts and consequences of the crime, and the social harm.
According to the criminal law, the sentence for kidnapping ranges from five years to life imprisonment. If the kidnap victim is killed or hurt intentionally, the kidnapper can be sentenced to death.
Ling received the death penalty while Zhao was given life imprisonment.