Policeman's wife tells her fear, discomfort about anti-police sentiment in Hong Kong
Share - WeChat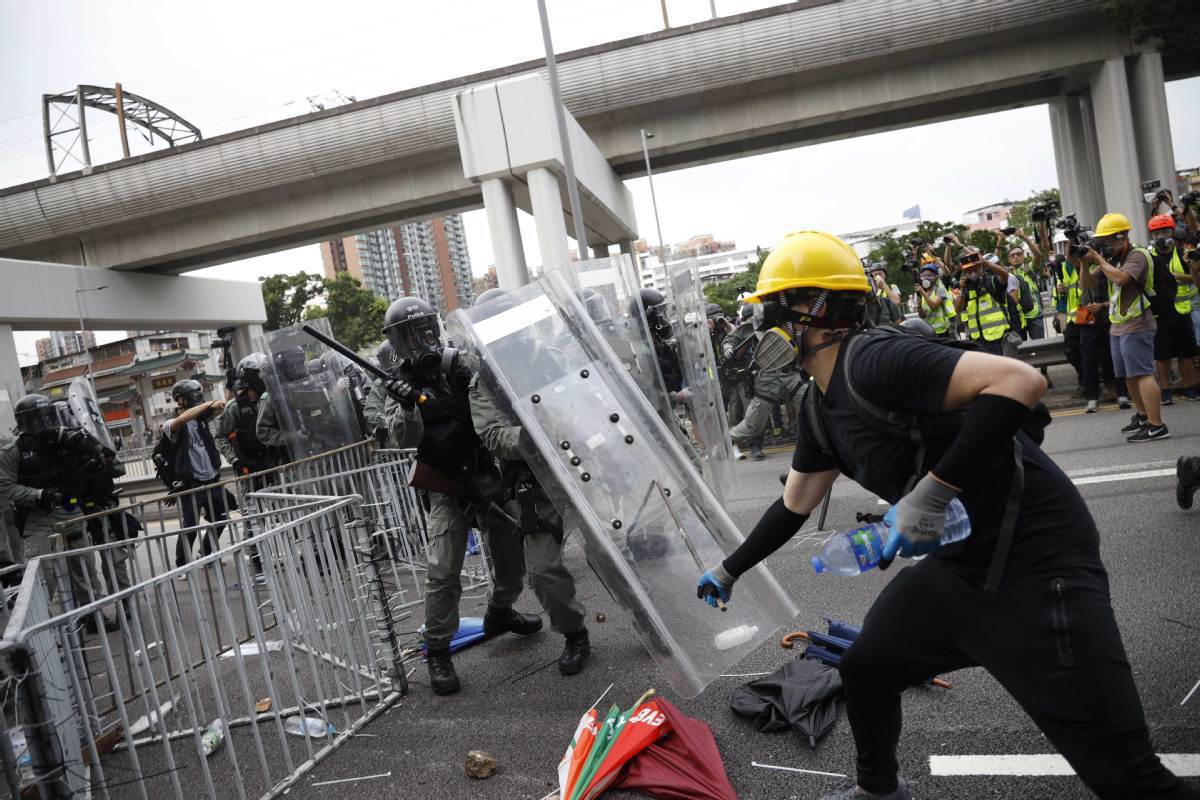 HONG KONG - On a recent night when an off-duty Hong Kong police officer was stabbed by a trio of masked men, Suet, wife of a Hong Kong policeman, suffered a mental breakdown.
When the news came out that the ambush at a Mass Transit Railway (MTR) station in New Territories of Hong Kong left the officer with bone-deep wounds, Suet's husband Piu was on his way to the police station.
Suet tried fanatically to contact her husband.
"I was sitting at home desperately, doing nothing except for staring at the phone screen and waiting for Piu to reply," said Suet.
As the unrest in Hong Kong entered the third month, prolonged and escalating violence by radical protesters has taken a heavy toll on Hong Kong's police force. According to the Hong Kong Police Force, at least 200 officers have been attacked and injured during the continued unrest.
To Suet's relief, Piu arrived at the police station safely. "But since then, he has to keep me posted about his itinerary. I have to know that he is safe," said Suet.
It was not just Piu's safety that was on her mind. Amid the rising tensions between rioters and the police force, well-known for its discipline and professional performance to maintain social order, families of the latter have become a target of the former.
"The news of verbal intimidation and even death threats against police families, especially against our children, sent a shiver down my spine," she said.
So far, the personal data of more than 1,800 police officers and their families has been illegally disclosed online since June, including pictures of the children of the police and information about their schools and classes. In some cases, teachers reportedly encouraged bullying against children of the police.
In online forums such as LIHKG, radical protesters spread rumors and distorted information, or simply vent their unrestrained anger. They even share information on how to bully police's children, instructing its readers to work in a group of six with designated men acting as lookouts.
"We adults may have the strength to defend ourselves in the face of danger, but our children cannot defend themselves," said the mother of two.
As the new academic year kicked off one week ago, she was baffled by concerns about the safety of her older son who was attending a primary school.
"I have to remind my son every morning not to tell anyone that his dad is a police officer," said Suet.
With concerns about the safety of her husband and children in mind, Suet soon found the stress unbearable. Then, a friend of her suggested that she could open an account on Weibo, a leading Chinese social media platform, to tell the world what was happening to families like hers.
"We need others' support to know that we are not fighting those lurking in the darkness all by our own," she said.
Since she posted the first message on Weibo on Aug. 25, the account, set up on behalf of four spouses of Hong Kong police officers, had attracted more than 120,000 fans, and support for Hong Kong police and their families kept pouring in.
"When you post pro-police messages and pictures on Facebook in Hong Kong, you are likely to become a target of cyberbullying and in some cases, your personal data will be illegally collected and released," said Suet. "All I get from the Chinese mainland is support and encouragement."