Lushan revitalized in wake of quake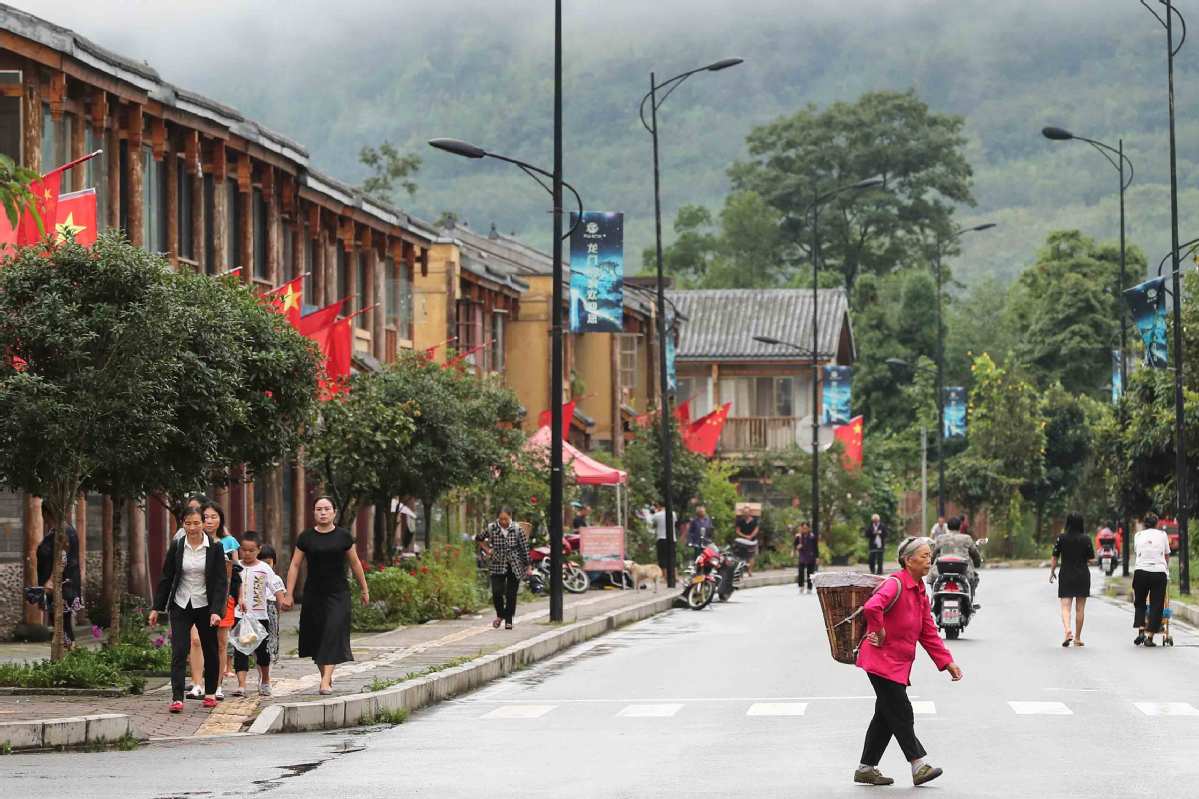 Self-management groups have rebuilt county following deadly 2013 disaster
Editor's Note: As the People's Republic of China prepares to celebrate its 70th anniversary on Oct 1, China Daily is featuring a series of articles about regions that President Xi Jinping visited in recent years. They explore what has happened since.
Visitors to Qiao'ai New Village in Lushan, a county administered by Ya'an, Sichuan province, are impressed with its villa-like residences.
"All the residences are two-stories high and are as pleasant as villas at the foot of Mount Qingcheng," said Xu Lu, a bank clerk in Chengdu.
Listed as a UNESCO World Heritage site, Mount Qingcheng in Dujiangyan, Sichuan, is the birthplace of Taoism, the only religion indigenous to China.
But what equally impressed Xu during her recent visit with her young son to Qiao'ai was its cleanliness.
"The mention of a village reminded my son of litter on a dirt road and domestic animals wandering around and answering the call of nature. But the streets of Qiao'ai turned out to be as clean as those in Chengdu, which is recognized nationally as a clean city," Xu said.
Residents attribute Qiao'ai's sound environment to a self-management committee in the village. The committees were like property management companies in cities, said Jin Zhaoxiang, 75, deputy director of the committee.
After a magnitude-7.0 earthquake struck Lushan in April 2013, committees were organized in centralized resettlement areas, with members chosen from public-spirited residents to coordinate reconstruction of quake-damaged houses.
The quake killed 176 people and injured 12,614 in Ya'an. Damage spread to all six counties and two districts there. The quake affected 12,500 square kilometers of land - more than 81 percent of the city. Around 1.5 million people, or 97 percent of the city's population, were affected.
President Xi Jinping visited the region in May 2013. He expressed sympathy to those affected and encouraged them to rebuild their homes.
When reconstruction was completed, the committees became self-management committees in charge of sanitation, public security, fire prevention and settlement of disputes.
Qiao'ai, which literally means "Love of overseas Chinese", is so named because overseas Chinese donated 45 million yuan ($6.3 million) to rebuild the village.
After the earthquake, Caoping village in Lushan was renamed Qiao'ai, and residents of three other villages - Tongtou, Qingjiang and Sanjiao - were resettled there. Qiao'ai grew to 226 households.
After villagers moved into new houses in 2016, trash could be seen everywhere in Qiao'ai. There were no property management firms.
With guidance from the Ya'an city government, the centralized resettlement areas in the quake zone began creating self-management committees. To keep the committees operating, the city government provides subsidies, and residents pay fees.
Chickens used to walk freely, and droppings of domestic animals were common in the village. Now, thanks to the self-management committee, the village is clean, Jin said.
Yang Mingqiang, deputy director of the committee, said all of the four members of the committee were elected by peer villagers and worked part-time.
"I feel honored and obliged to do the job well. I am one of the residents here, too," he said.
Members of the committee would visit residents' homes and chat with them to spread information on sanitation. If disputes arose between neighbors, good friends of the parties would accompany committee members to find the source of the problem and figure out a solution, he said.
The self-management committee in Qiao'ai has organized classes to teach residents cooking, sewing and electric welding skills, which can help them get jobs in Ya'an and elsewhere.
To standardize management approaches, the standing committee of the Ya'an city people's congress formulated regulations clarifying the responsibility of the self-management committees and management methods to be used in the centralized resettlement areas. The rules were approved by the standing committee of the Sichuan Provincial People's Congress in March 2017.
To encourage farmers to make their own efforts to rebuild houses damaged in the Lushan earthquake, the Sichuan government provided subsidies.
Households of one to three people received 26,000 yuan, while those of four to five people got 29,000 yuan and those of six or more people, 32,000 yuan.
In the Lushan earthquake zone, 80,771 farmhouses and 33,696 urban apartments were rebuilt within three years, in line with a restoration and reconstruction plan announced by the central government in July 2013.