China's opening-up 'key' to opportunity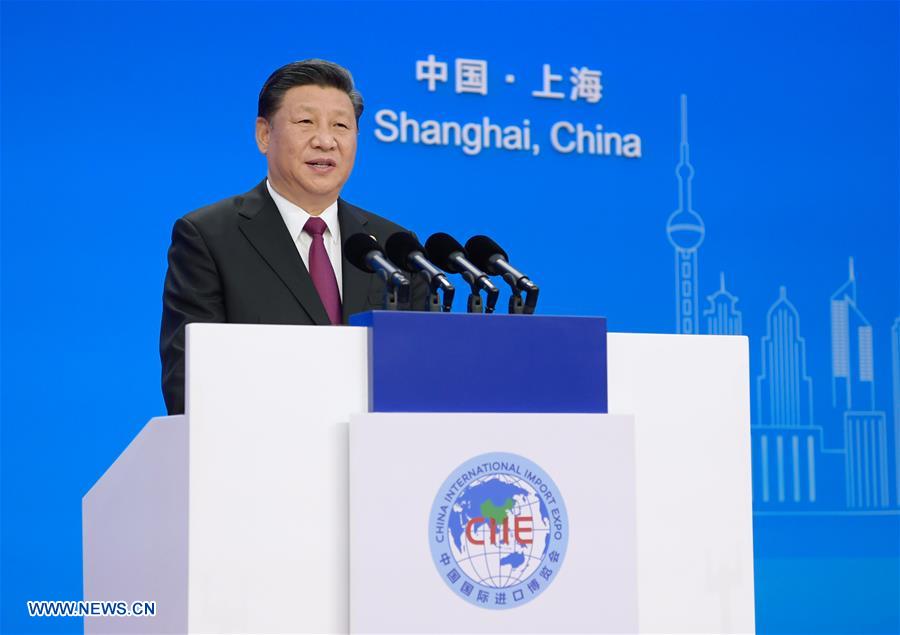 Editor's note: Xi Jinping Thought on Diplomacy is the fundamental guideline for China's diplomatic work in the new era. China Daily is publishing a series of articles to examine how Xi's proposals have become internationally accepted and have contributed to world peace and human progress.
Steady implementation of Xi Jinping's formula for success has shown results
Juan Francisco Carrasco, the China manager of a Chilean mussel company, St. Andrews, is considering participation in November's China International Import Expo after getting a feel for what he said was China's "big effort" at the first expo last year to further open its markets to foreign countries.
"It will be an ideal opportunity to sign more agreements with partners that will probably attend the fair," Carrasco said, because increasing demand for imported seafood from Chinese consumers is creating an important market for the company.
This year's expo will be held in Shanghai. So far, more than 3,000 companies from around 150 countries and regions have signed up, surpassing last year's prospective attendance.
The expo, proposed by President Xi Jinping in 2017, is part of China's new round of high-level opening-up to further expand access to its markets.
Guided by Xi Jinping Thought on Diplomacy, China continues to embrace the world by striving to build an open global economy in the new era.
Xi has repeated China's confidence and determination to further open up to the world on various international occasions, offering the country's answer to current complex and profound global changes, which were not seen over the past century.
"Expanding opening-up is a key provided by China to deal with the ongoing changes in the world, including the rise of protectionism and unilateralism," said Zhou Fangyin, a foreign policy researcher at the Guangdong Institute for International Strategies.
According to Zhou, China's further opening-up will help promote cooperation with other countries as it provides concrete opportunities for foreign companies to make investments and do business in China.
"This may even alter the way that global changes finally evolve," Zhou added.
At the G20 Summit in Osaka, Japan, in June, the Chinese president announced major measures aimed at breaking new ground in opening-up and delivering high-quality development. They include further opening of the Chinese market, expanding imports and improving the business environment.
On June 30, a day after the summit concluded, China released its two revised negative lists for foreign investment market access, easing restrictions in agriculture, mining and manufacturing.
The lists, one for pilot free trade zones and one for the rest of the country, contain fewer measures limiting access. Pilot FTZs now have 37 items that restrict foreign investors, down from 45, while non-FTZ areas have 40 items instead of the previous 48.
In March, China also released its first Foreign Investment Law, which will take effect on Jan 1.
"We applaud and benefit a lot from China's reinforced efforts to further open up and optimize the business environment," said Fabrice Megarbane, CEO of L'Oreal China. "Passage of the Foreign Investment Law is a good example this year. It makes us more confident about further development in China."
An increasingly open, fair, predictable and favorable business environment protected by legislation is helping L'Oreal develop with lower costs and greater efficiency, Megarbane said.
Su Hao, a professor of international relations at China Foreign Affairs University, said China is not just boasting about further opening-up but is taking concrete steps to open its market wider to foreign investment and build an open world economy.
"As a beneficiary of globalization, China is now making its own contributions to uphold free trade, as well as providing its own wisdom and solutions for the world," Su said.
Opening-up is a strategic decision made by China based on its need for development, he added.
In a speech at the Boao Forum for Asia annual conference in 2018, Xi said what has happened proves that opening-up was key to China's economic growth over the past 40 years. In the same vein, he said, high-quality development of China's economy going forward can only be achieved through greater openness.
Regarding the current China-US trade tensions, Zhou, the researcher, said China "is doing exactly the opposite of the US" by steadfastly advancing reform and opening-up at its own pace in accordance with its own timetable and road map.
"Facing the unilateralist and trade protectionist policies of the US, China is not simply making confrontations," he said. "Instead, it is intensifying its efforts to open up while taking reasonable and necessary countermeasures."
According to Zhou, the world economy would suffer if China were to behave in the same way as the US.
But China's current opening-up can help keep the world economy developing on a rules-based track that features freedom and openness, thus easing the negative impact brought by Washington's trade protectionism, he said.
"Given the uncertainties faced by the world economy, China's pledge to open up will provide confidence for other countries and stabilize global market expectations," Zhou added.
At the opening ceremony of the first China International Import Expo, Xi urged other countries to make an effort to improve their business environment and address their own problems.
"They should not hold a flashlight in hand and do nothing but check out the weaknesses of others and not of their own," he said.
China Foreign Affairs University's Su said some Western countries have felt the pressure from the progress achieved by developing countries such as China, so they turn to measures that suppress or block the development of companies from those countries.
"This is against the trend of globalization and the development of world economy," Su said, adding that from being the world's factory in the past to today's world market, China has become the engine of global economic development through its own efforts to reform and open up.
US supermarket giant Costco opened its first outlet on the Chinese mainland last week in Shanghai. The reception by customers was so enthusiastic that it had to suspend business in the afternoon because of overcrowding.
"This demonstrates again that there is no way world prosperity can be separate from China's development," Su said.
Megarbane said L'Oreal is confident about developing opportunities in China, as it believes that China will become the most attractive destination for investment, given the government's determined, long-term efforts.
"President Xi once compared China to a big sea. I believe the sea can receive hundreds of rivers," he said.