HK adopts measures to protect police officers' children
Share - WeChat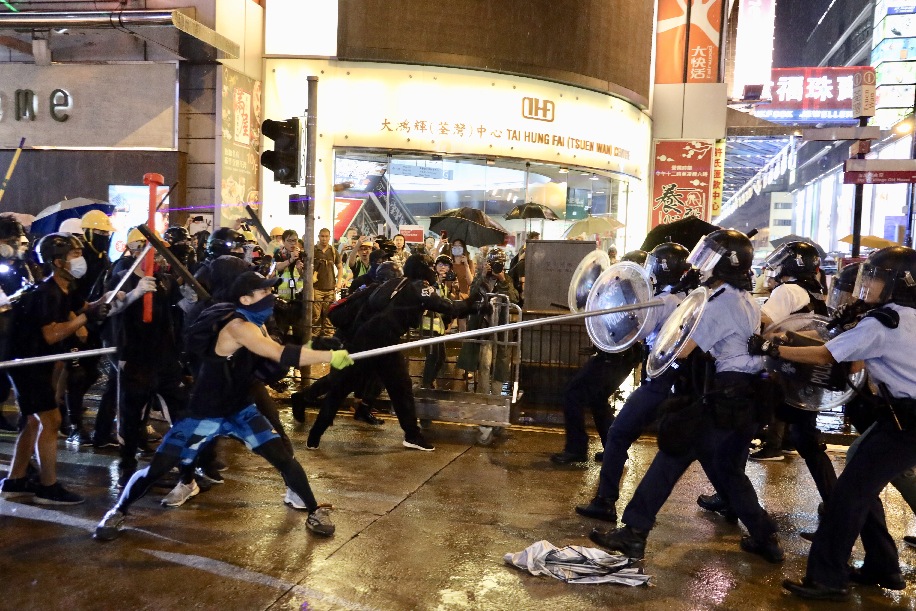 Hong Kong police have arranged for retired police officers to escort children of police officers to school, in light of possible bullying and safety threats against them, police sources revealed Friday.
It is part of the police's efforts to counter possible bullying of police officers' children, with schools set to start next week and increased hostility toward police and their families, some of whom have had their personal information leaked.
Other measures include maintaining close contact with school management and establishing a hotline for possible victims of bullying.
According to police, more than 1,600 police officers have had their personal data leaked online since early June. Some family members of police officers have received death threats.
A junior police officer told China Daily that he received over 3,900 unknown calls in two weeks, on top of thousands of messages that insulted him and the police force at large.
The officer, who only gave his name as Ah Ho, said this happened after he posted pro-police comments on social media on June 12, when radical protesters stormed the Legislative Council complex and clashed with police officers.
Ah Ho said his Hong Kong identity card number, home address and information about his family members were exposed online, allowing some to use his personal information to apply for loans from private finance companies.
"My mom becomes anxious every time when I leave home for work. She keeps reminding me to watch out for any danger," the 20-year-old said. He has worked with force for one year and currently serves in the Kowloon West region.
Yet Ah Ho said he has not considered quitting his job. "I aspired to become a police officer when I was in middle school. A police officer would never escape from difficulty. Otherwise how could we protect the people of Hong Kong," he said, adding his family supports him to continue doing his job.
The police also activated its Regional Response Contingent on June 9 to improve contingency response as protests have recurred every week since.
One reason behind the move is that large-scale operations require the participation of experienced police officers with particular expertise.
When things are quieter, the officers of the Regional Response Contingent resume their original duties, the source said.
The source also appealed to news media to give a faithful picture of what is happening in Hong Kong to the public.
For instance, severe injuries of police officers were underreported, police restraint ignored, and police action hyped, the source said.
And many people misunderstand that it is the police who escalated the violence, but it is in fact some radical protesters that resorted to violence in the first place, said the source.
A lot of police officers were injured, with one even having his finger tip bitten off by a protester, said the source.
"We are human beings. We are working long hours – 12 hours, some 24 hour," the source said, adding that officers have to face what he calls false accusations and that some frontline officers have wrongly been called triad members.
The source, whose birthday is approaching, said that he hasn't seen his family members for more than 20 days.
On average, most officers have been working overtime for more than 100 hours each month since June, the source said.