Environmental progress amazes foreign visitors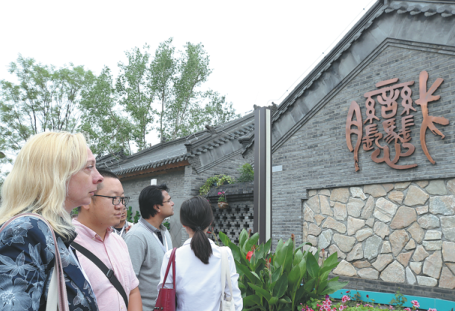 Global exhibition demonstrates prowess that tackles desertification and features biodiversity
A group of foreign guests had a four-day tour of Beijing last week to explore the city's cultural charm and innovative energy under the Belt and Road Initiative.
The event was entitled China Now: Silk Road Rediscovery Tour of Beijing upon the 70th Anniversary of the People's Republic of China. It was hosted by the Information Office of the Beijing government and China Radio International Online. Guests included celebrities, think-tank members, senior journalists and noted writers from 13 countries involved in the Belt and Road. They included Kenya, Germany, Cambodia and Thailand.
The tour started at the Beijing International Horticultural Exhibition, or the Expo 2019 Beijing, in the city's northern Yanqing district on Aug 20.
Xu Hejian, director of the Information Office of the Beijing government, said at the launch that the event was a vivid example of stronger exchanges and mutual learning between China and other countries in the BRI.
The tour helped the participants discover a new Beijing. This was done not only with the most innovative entrepreneurs and a premier business environment, but with green and humanistic development concepts, Xu added.
The Expo 2019 Beijing opened to the public on April 29 and closes Oct 7. It is one of the highest-ranking and largest international expositions held in China to showcase the country's ecological construction.