Shanghai gears up its autonomous driving sector with partnership
Share - WeChat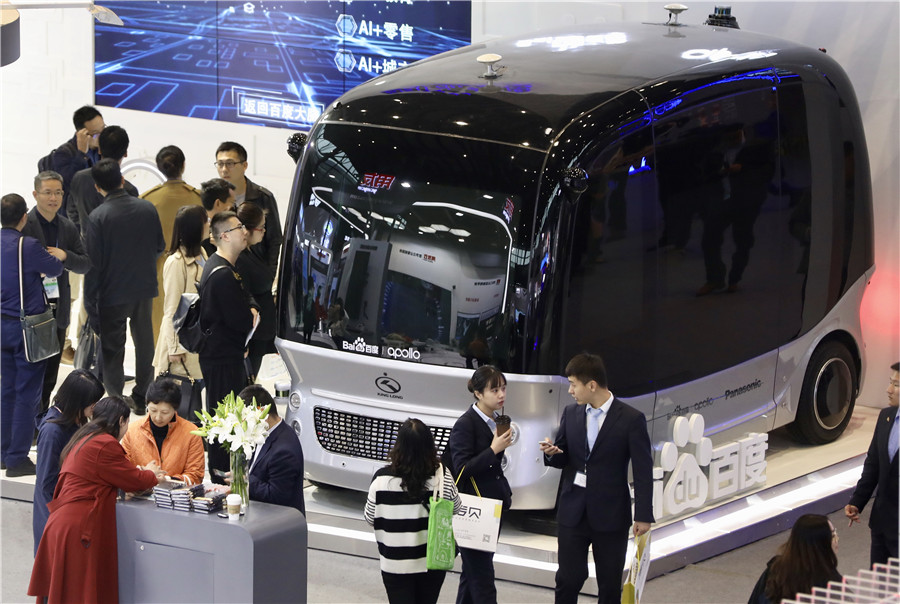 Shanghai has taken a substantial step in standardizing autonomous driving testing through an international partnership that is expected to catapult the city to the forefront of self-driving equipment development.
Shanghai Motor Vehicle Inspection Certification & Tech Innovation Center Co Ltd, a national lab for motor vehicle inspection, announced a strategic partnership on Wednesday with Humanetics Innovative Solutions, a world leader in producing crash test dummies, to jointly develop a testing system to fill the standardization void for automated vehicle testing.
The tie-up will draw on SMVIC's prowess in conducting various vehicle tests and Humanteics' wide portfolio of testing products, the duo said during a signing ceremony in Shanghai.
"The establishment of a commonly recognized testing method is critical and the starting point of our cooperation," said Shen Jianping, general manager of SMVIC.
"All industrial standards in the making need to find their roots in reliable testing procedures."
"Right now every vehicle in the world can have auto braking. But the details of how they auto brake can be different from one another. So we really need to set a standard for how the testing will be done ... and China can certainly be the leader in this space," said Christopher J O'Connor, chief executive officer and president of Humanetics.
According to Shen, the duo stands to enjoy shared intellectual property rights once the testing platform is built.
The system will then receive troves of data input for more in-depth and integrated analysis on auto driving testing, which is expected to generate a one-stop solution for auto original equipment makers and spare parts vendors.
"And this will ideally pave the way for drafting regional-level rules for autonomous driving," he said.
China has conducted road tests in a number of its municipalities and provinces, including Beijing, Shanghai, Chongqing and Guangdong. But even on the global scale, autonomous driving testing is in its infancy, with multiple players engaged in various tests based on different technical standards and driving conditions.
More than 80 percent of the surveyed consumers in China said traveling in a fully autonomous car is a "positive experience", consultancy Deloitte said in its 2019 Global Automotive Consumer Study. This contrasted with the overall stalled interest in consumer perception across the Asia-Pacific region, as people were deterred by reports of accidents in the past year.
Marco Hecker, Deloitte China automotive sector leader, pointed out that connectivity is really the driver of decision-making in car purchases and cited several factors at play, namely "the high level of internet penetration, more openness toward data sharing, and the development of key infrastructure such as 5G that stands to boost vehicle connectivity".
But challenges for testing lie in the various circumstances and geographies where vehicles can be tested (for instance, on public roads or test tracks), thus making standardization and binding guidance difficult, Shen said.
"This collaboration is likely to generate some tangible results for a local or national level standard, which can one day be the prototype for an international standard," said Jonathan Zhou, partner and (China) president of private equity group Bridgepoint in Shanghai.