Mercedes-Benz backs new SUV to maintain edge in China market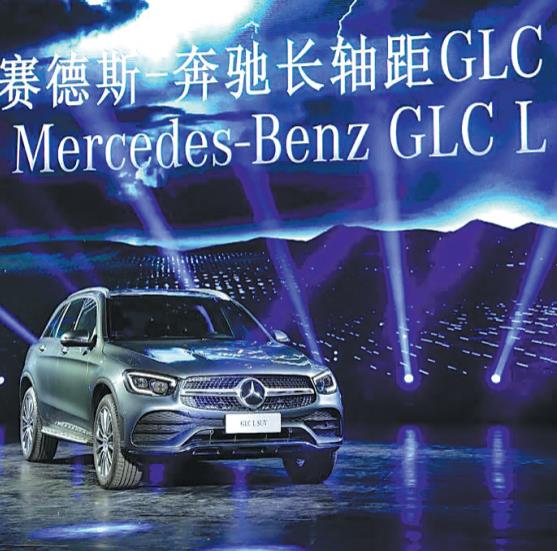 German premium carmaker Mercedes-Benz launched the new GLC L SUV in Urumqi, Northwest China's Xinjiang Uygur autonomous region on Saturday, an updated model to better meet the demands of Chinese customers.
Duan Jianjun, chief operating officer of sales and marketing at Beijing Mercedes-Benz Sales Service, was optimistic about the new model for the Chinese market.
"The new GLC L SUV has a dynamic and elegant design, lots of interior space, a smart information entertainment and driving assistance system, together with excellent performance on and off-road," Duan said.
"The back seating row has been designed for Chinese customers, and the model is setting a new benchmark for the segment."
With a twin-turbo four-cylinder engine, the model has two powertrain options which generate maximum outputs of 145 kW and 190 kW respectively.
A prominent feature of the model is the Mercedes-Benz User Experience infotainment system and voice assistant, which allows drivers to use touch and voice controls.
The system is capable of learning user behavior with the support of artificial intelligence, thus offering more personalized driving experiences.
Mercedes-Benz will offer five variants of the new GLC L SUV starting at 392,800 yuan ($55,380).
The GLC L SUV has been designed exclusively for Chinese customers with a class-leading 2,973-millimeter wheelbase and rear row exclusive configuration, which was launched last October.
The model injects fresh energy to Mercedes-Benz's product lines to help the German premium carmaker to consolidate its position in the world's largest automotive market, the company said.
According to Daimler AG, Mercedes-Benz registered a 13 percent sales increase in China in July delivering 59,435 vehicles, ranking first among premier brands.
In terms of models, Mercedes-Benz C-class, E-class, S-class and GLC SUV all performed well with double-digit growth in July, according to Daimler.
The tally pushed the brand's cumulative China sales for the 2019 through July to 404,092, an increase of 2.9 percent year-on-year, outselling rivals BMW and Audi in the first seven months.
In May, Mercedes-Benz China published a new after-sales service policy banning its dealers from charging financial service fees.
The carmaker said this has helped win customer trust.