Countryside tours gain popularity
Share - WeChat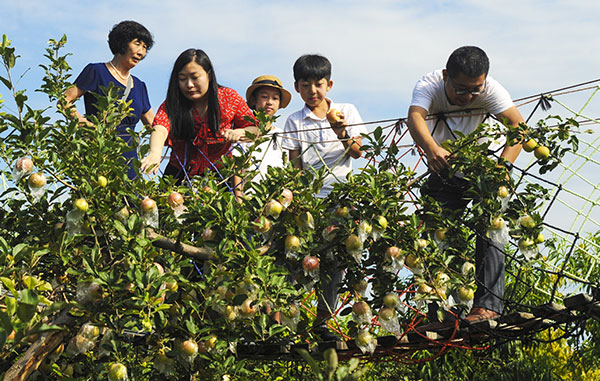 Bustling metropolis was once a popular destination for Chinese tourists, but over the years, countryside retreats have become a top choice for more people during their holidays.
A number of villages soon smell the opportunities created by flocks of visitors in search of authentic countryside lifestyle, hoping for a slice of the potentially lucrative market.
In an ordinary household of Shuanglian village near the city of Dixing, northwest China's Gansu province, farming tools such as wooden plow, wheelbarrows and pitchforks displayed in the courtyard along with paintings depicting harvests hanging on the walls give visitors a nostalgic taste of the traditional rural life.
"I hope that my child, born and growing up in the city, can also enjoy the happiness in the countryside and become closer to nature," said Sun Jia from Lanzhou, capital of Gansu province, who usually brings her child to the village during weekends.
Previously making a living on planting trees and breeding livestock, hospitable villagers in Shuanglian began to host visitors with their houses and streets in the village renovated since the end of last year.
"We expect to highlight the village's long history of farming culture and advocate a tranquil rural lifestyle to attract more people from cities to stay for some time," said Wei Xuezhong, deputy Party secretary of Shuanglian village.
Shuanglian village is among a growing number of villages across China that have benefited from a national strategy to revitalize the rural economy by implementing ecologically-friendly agriculture and cultural tourism.
The strategy was first put forward during the 19th National Congress of the Communist Party of China (CPC) in 2017 and has been repeatedly stressed by the Chinese leadership since then.
The strategy aims at achieving the fundamental modernization of agriculture and rural areas by 2035, and the grand goal of a robust agricultural industry, beautiful countryside and well-off farmers by 2050.
With the support of local governments, villages become more professional when welcoming guests. Over 20 km away from Shuanglian village stands a large recreational park that houses a water amusement park, hot springs, a zoo, an RV park and farmyards.
In 2018, the park's turnover in tourism and services reached 36 million yuan and over 260 locals from poor households were employed.
According to statistics released by Gansu's culture and tourism department, in 2018, villages across the province received 85.2 million visits, bringing in a total income of 16.5 billion yuan, up 21.1 percent and 29.4 percent respectively over the previous year.
"The popularity of spending holidays in the countryside implicates people's pursuit of inner peace," said Dou Xuecheng, a professor with Gansu Agriculture University, adding that rural tourism also creates new opportunities for local economic development.