Millions of visitors pour in for Qingdao beer fest
Share - WeChat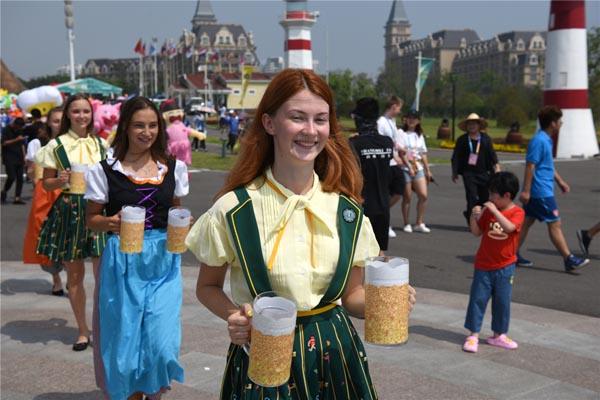 The 29th Qingdao International Beer Festival, which concludes on Sunday, is being held at Golden Beach Beer City in the Xihai'an (West Coast) New Area in the city's Huangdao district.
Initiated in 1991 and hailed as Asia's Oktoberfest, the Qingdao festival is the largest of its kind in Asia and one of China's biggest tourism events.
Over 300,000 people attended the event's opening day on July 26, and more than 5 million visitors consumed over 2,150 metric tons of beer by Tuesday.
Nine beer tents have been set up in the Golden Beach Beer City, bringing together more than 1,400 beer brands from such countries as China, Germany, the Netherlands, Canada and South Korea.
Local beer brand Qingxi King featured at the event for the first time. It is the only beer that is produced at the venue tent, so visitors can watch the whole process.
According to Yang Shimin, manager of the Qingxi King beer tent, the tent covers an area of 1,800 square meters and serves six types of beer.
"Our IPA is a classic one that's made with hops from the United States and has a flavor of fruits," Yang says.
"Our barley ale uses barley from the Qinghai-Tibet Plateau. It has a brown-red color and rich foam."
Outside the tent, there is also a beer garden with 12 snack booths.
"We are happy to see our tent get so popular since this is the first time we are taking part in the beer festival, and each day we serve around 15,000 visitors," Yang says.
Most Popular