Henan court upholds sentence for man who attacked former teacher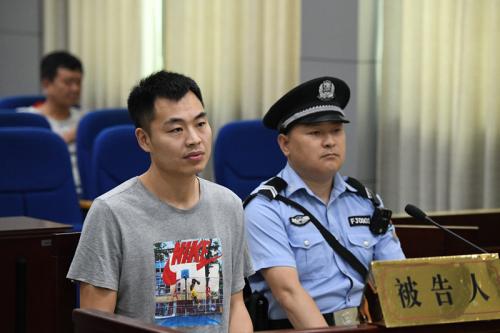 A court in Central China's Henan province on Monday upheld the 18-month imprisonment sentence of Chang Renyao for attacking his former middle school teacher.
The Intermediate People's Court of Luoyang issued the final verdict after the second hearing on Monday.
Chang appealed the previous sentence ruled by a court in Luanchuan county in July. He was sentenced to 18 months in prison for disturbing public order by attacking his former teacher, surnamed Zhang, and spreading video of the attack online.
The intermediate court confirmed the facts and evidence determined in previous court appearances. It said in a statement that the facts identified were clear, the evidence was accurate and sufficient, the conviction was accurate and the sentencing was appropriate, and the proceeding was based on law. Chang's reasons for the appeal and his defender's opinions were dismissed.
Chang attacked his former teacher, who he nursed a grievance against for two decades, on the road and asked a man to record the attack in July last year. More than 20 passersby witnessed the attack. Chang sent the video to his former classmates and it went viral on Chinese social media.
The court in Luanchuan said Chang attacked and insulted Zhang by venting his anger. Chang recorded the attack and posted it online, which seriously affected the work and daily life of Zhang and his family, and damaged social moral standards and public order. His behaviors have constituted the crime of disturbing public order.
Although Chang told the court that he attacked Zhang in revenge for physical punishment he received from the teacher 20 years ago for breaching school disciplinary rules, his excuse was dismissed by the court.
"The current evidence is sufficient to prove Chang caused disturbances to society but cannot prove the victim's misconduct," the Luanchuan court said. "Chang's dissatisfaction with Zhang can't be an excuse for his attack."