Joint hospital effort bolsters treatment
Share - WeChat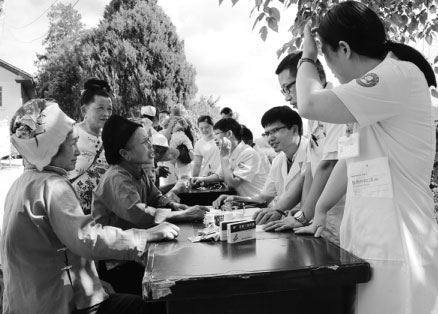 Taijiang residents more confident in local center since deal with university
Xie Jinqian was told his kidneys were failing 27 years ago, but he held off having surgery until last year at his local hospital, in impoverished Taijiang county, Guizhou province, because he was worried about the quality of care it offered.
Those concerns were dispelled after the Second Affiliated Hospital of Zhejiang University School of Medicine - one of the top hospitals in Hangzhou, the capital of Zhejiang province - signed an agreement in April 2016 to jointly operate the hospital in Taijiang.
Xie had minimally invasive but high-risk surgery known as a percutaneous nephrostomy - in which a small, flexible tube is inserted through the skin and into a kidney to drain urine - at the county hospital in October last year.
The 53-year-old retired civil servant said his condition has improved significantly since the operation and he now only needs two dialysis sessions a week, down from three.
The surgeon who operated on Xie, Shen Xiaocao, is a senior surgeon from the hospital in Hangzhou and also vice-president of the county hospital.
He said Xie's surgery - the first such operation performed at Taijiang County People's Hospital - was very successful and might mean Xie would no longer need dialysis.
"If Xie recovers well, he will only have to take medicine to help cure his high urea level and control his disease," said Shen, who began working in Taijiang in August last year.
Xie was diagnosed with uremia during a routine health checkup in 1992, but the county hospital's poor standard of treatment and medical facilities, and its lack of skilled, experienced doctors and medical staff made him reluctant to have surgery there.
A medical aid project headed by the Organization Department of the Central Committee of the Communist Party of China that aims to help those in need in rural areas changed his mind when he fell seriously ill last year.
The project led to the agreement between the two hospitals, which has also sent senior doctors from the hospital in Hangzhou to Taijiang each year to train local doctors and improve the level of medical treatment at the county hospital.
Zhejiang University and the hospital in Hangzhou have, between them, invested more than 23 million yuan ($3.3 million) to help the Taijiang hospital purchase advanced medical equipment.
Xie's 45-year-old wife, Pan Simi, said people like her husband no longer needed to travel long distances for complicated surgery.
"Now the medical technology and equipment at Taijiang county hospital are almost the same as those in the provincial capital and prefecture-level cities, and many medical experts and senior doctors from major hospitals in other parts of the country are taking turns to see patients in the hospital," she said.
Xiong Wen, director of the county hospital's hemodialysis center, said the minimally invasive kidney surgery performed on Xie had many advantages, including less damage, less pain and quicker recovery.
"The surgery can play a role in saving lives and is widely used in urology, but it is also high-risk. The patient can suffer a massive hemorrhage if the surgeons make even a minor mistake," said Xiong, who was part of the team that operated on Xie.
"The technical requirements are very high, and only senior doctors can perform such surgery."
Xiong said he has learned a lot from Shen and could now perform many kinds of surgery he had not dared attempt before. Other local doctors have gained similar confidence thanks to the presence of Shen and other senior doctors at the hospital.
Chai Biao, deputy director of the general office of Taijiang county hospital, said Taijiang has a high incidence of kidney stones and gastrointestinal diseases due to the poor local diet.
The county hospital has established a digestive endoscopy center with the help of the doctors from Hangzhou to provide painless gastrointestinal endoscopy services and perform minimally invasive surgeries, and has also established a urinary surgery department.
Taijiang's county government has attached great importance to further improving medical treatment standards in the 13th Five-Year Plan (2016-20).
It said it has spent more than 20 million yuan on the construction of upgraded facilities, including the outpatients building, 10 million yuan on information technology, 3.25 million yuan on advanced medical equipment and 1.6 million yuan building two new canteens at the hospital.
The government is planning to further expand its investment to help attract talented doctors and medical staff and will also send more local medical staff for training outside the Taijiang county.
Chai said more local patients were choosing to see doctors at the hospital thanks to its improving standard of medical treatment, and it was also attracting more patients from nearby counties and townships.
Taijiang county lies in the southeast of Guizhou, and 98 percent of its residents are members of the Miao ethnic group.
Chai said the hospital now had people who could guide outpatients to the correct services in the Miao language as well as Mandarin.
More than 113,481 outpatients and emergency patients received treatment at the hospital last year, he said, up 28 percent year-on-year.
Zhao Yandi contributed to this story.