Overseas institutions maintain vibrant presence in bond market
Share - WeChat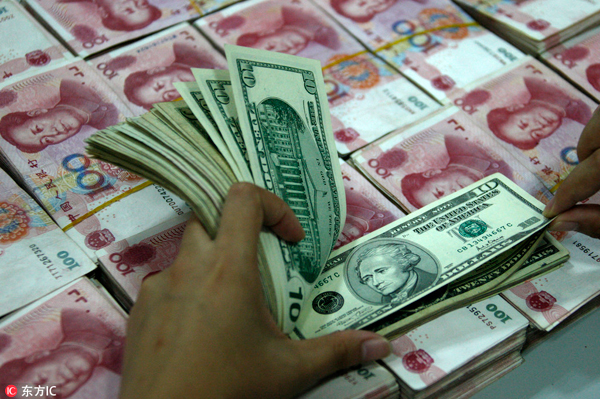 Overseas investors have continued their activity in the Chinese bond market given its comparatively lucrative performance over the past few months and the central regulators' commitment to further opening up.
According to China Central Depository & Clearing, overseas institutions held nearly 1.7 trillion yuan ($240.5 billion) worth of Chinese bonds via CCDC's trust accounts by the end of July, up 3.2 percent from a month earlier. It is the eighth consecutive month that overseas institutions have increased their investment in Chinese bonds.
Latest data from Shanghai Clearing House showed that overseas institutions held more than 317.6 billion yuan of bonds via its trust accounts by the end of July. Overseas institutions have invested more than 2 trillion yuan of bonds since the end of last month.
Likewise, another 96 overseas institutions joined the bond connect program in July, with the total number of such overseas institutions exceeding 1,100. The total trading volume of the bond connect mechanism reached 201 billion yuan in July, hitting another record high. The bond connect program between the Chinese mainland and Hong Kong markets was launched in early June 2017.
Statistics from the China Foreign Exchange Trade System showed that a total of 2,085 overseas institutions had entered the Chinese interbank bond market by the end of July, with their total investment rising 18 percent year-on-year to 435.3 billion yuan.
Analysts from China International Capital Corp Ltd wrote in a note that the yield of treasury notes in most economies has hit a historic low since 2016 or very much approaching the record low. But during the same period, Chinese bond market is quite attractive if compared to the sluggish performance of the bond markets in other economies.
The yield of 10-year US treasury bond dropped to 1.595 percent on Aug 7, which was the lowest level since the fall of 2016. On the same day, the yield of Germany's 10-year treasury note further declined to a record low of - 0.6 percent while that of China's 10-year note remained at 3.073 percent.
Ming Ming, chief analyst for fixed income products at CITIC Securities, explained that some economies have practiced zero interest rates for quite a long time. The Chinese bond market is of course attractive against that backdrop. Meanwhile, the inclusion of Chinese mainland bond market into the mainstream bond index will boost the demand among investors from all over the world, he said.
The Bloomberg Barclays Global Aggregate Index started including China's yuan-denominated bonds on April 1. The total inflow of foreign capital into the Chinese bond market will reach $120 billion in the next 20 months, according to China Minsheng Bank.