Regulation needed to protect users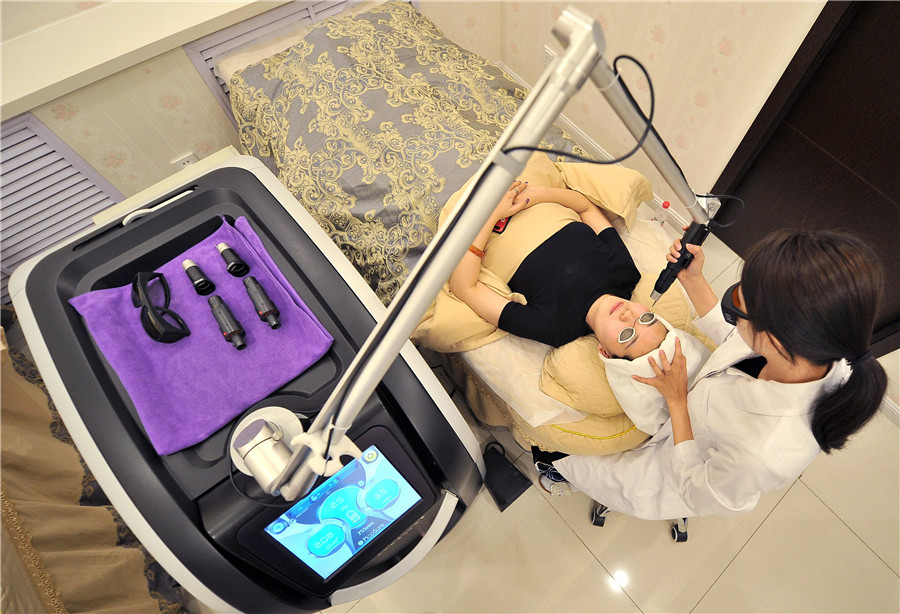 Hyaluronic acid treatments are becoming an increasingly popular alternative to plastic surgery in China, but the market needs regulation.
Instead of plastic surgery, "light medical aesthetics", which usually refers to nonsurgical treatment such as small molecule hyaluronic acid injections and thermage, or skin tightening, have become popular as they are cheaper and less risky.
According to a report from Meituan, during this year's June 18 online shopping festival, hyaluronic acid injections were the most popular service in the injection category.
"In the past, the perception of medical aesthetics was more about plastic surgery, but now user preference is leaning toward nonsurgical products," said Li Xiaohui, a spokesman for Meituan's medical aesthetics business department. "Of the requests we received, light medical aesthetics orders accounted for 78 percent of total business and it's still growing."
Dong Xiaoyin is a regular user of beauty booster injections of small molecule hyaluronic acid to keep her skin luminous and glowing.
"It costs about 3,000 yuan ($436) in Shanghai per shot," she said. "I think it is much safer compared to plastic surgery, which always comes with higher risk, and I just want my skin to stay in the best condition."
She said the only tricky thing was to find a clinic that used legitimate products.
"The price ranges differ greatly," said Dong who is a regular user of SoYoung, China's leading medical aesthetic platform. "If you look on the app, prices for the same products can range from a couple of hundred yuan to 2,000 to 3,000 yuan. And some advertisements can be misleading."
"Luckily, many established brands such as Filorga offer a simple verification method by scanning a QR code, and I only trust those brands," she added.
However, a lack of regulations in the business has led to fake products, underqualified doctors and misleading advertisements.
According to the Chinese Association of Plastics and Aesthetics' research in 2017, 70 percent of hyaluronic acid products were either fake or from questionable sources.
Zhao Yan, president of Bloomage Biotech, one of China's biggest manufacturers of pharmaceutical products specializing in hyaluronic acid, warned if unqualified or underqualified doctors are operating in the market, no matter how simple a process looks, it could lead to devastating consequences.
Zhao said the country has been pouring efforts into regulating the business and hopes laws will soon be in place to help the industry grow further.