Leaving a permanent impression
Share - WeChat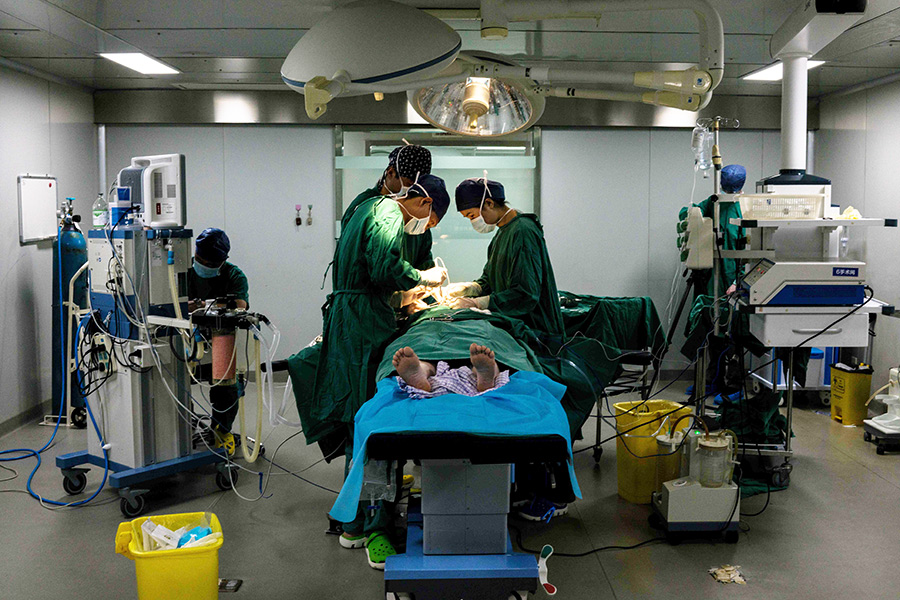 Cosmetic surgery treatments that enhance overall personality gain in popularity
In 2005, when Yang Mingjie got a national medical doctor license, she disobeyed her family wishes and chose to work in a cosmetic surgery clinic.
Now, she is an experienced cosmetic surgeon and an expert in nasal surgery, and her private practice, Dalian Calmagic Cosmetic Clinic, established in 2015, has customers from all over China.
Each operation Yang performs costs the customer about 60,000 yuan ($9,368) to 80,000 yuan, and yet people need to book for a consultation and an operation at least one to three months in advance. The monthly revenue of the clinic ranges from 800,000 yuan to 1 million yuan, and about 20 percent of the customers are male, according to Yang.
"When I chose cosmetic surgery as a profession, cosmetic procedures were only for the very rich or those people who made a living out of beautiful looks," Yang said.
"Now things are different. Our customers come from various walks of life."
In 2016, the Chinese cosmetic procedure market was worth 87 billion yuan, and the number will rise to 464 billion yuan in 2020, at a compound annual growth rate of 40 percent, according to a report released by consultancy firm Deloitte last year.
With Chinese people's income and living standards rising steadily, their demand for good looks and cosmetic procedures have increased exponentially, the report said.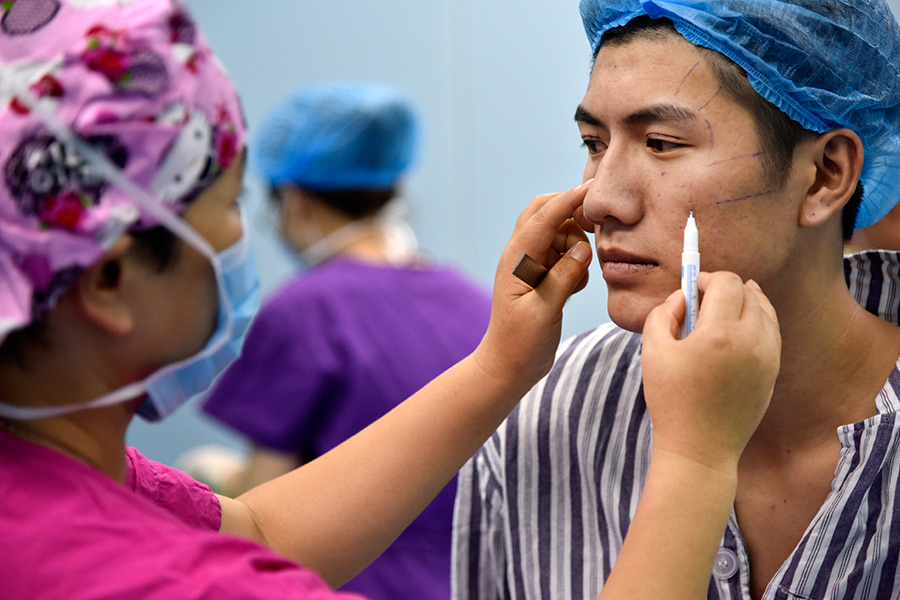 Chinese customers of cosmetic procedures-surgical or nonsurgical-range across age groups and those who opt for such procedures do so for improving their living or career standards and for social advancement, said Jin Xing, founder and CEO of Soyoung, China's leading online shopping and social media platform for cosmetic procedures.
Xiao Tian, a white-collar worker in the e-commerce industry in Beijing, said cosmetic procedures have become a necessity for her.
Born in 1990, she had double eyelid surgery in September 2015, and nose and chin surgeries two months later, which were followed by facial contouring and other injections later that year.
In December 2016, she redid her eyelids, removed a chin prosthesis, and had facial liposuction and filling.
Last year, she had two facelifts, one facial fat filling and hair planting procedures. She also had teeth aligning treatment, and is now undergoing regular cosmetic procedures on her skin, such as laser treatment.
"Cosmetic procedures have not only changed my looks, but also my life. It has brought me a better social life and career opportunities," Xiao said.
For Zhang Yuelin, a 24-year-old who runs a startup selling cotton tissue paper and an executive of a local company in Wuhan, Hubei province, cosmetic procedures are an integral part of daily life. "I care for how I look, and I want to be beautiful and youthful all the time," Zhang said.
"For me, cosmetic procedures are just like any daily beauty care product that helps me keep in good shape. But they are much more effective and the effect lasts a long time."
She had double eyelid surgery, one of the most popular cosmetic procedures in China, as soon as she passed the national college entrance examination. The operation was a reward for her hard work at high school and a way to make a good impression on her college classmates, she said.
It was not an easy decision to have facial surgery, especially when her family tried to scare her off by talking about plastic surgery failures, but finally, her craving for a pretty face overcame her fear and hesitation.
Since then, Zhang has had several surgeries to make her double eyelids more perfect, and also had micro cosmetic procedures, such as hyaluronic acid injection, from time to time.
Now, she has intense pulsed light therapy monthly to have clear skin complexion. The treatment, also known as photofacial or photorejuvenation, uses lasers or intense pulsed light to treat skin conditions and remove wrinkles, spots and textures.
"I want to have a decent life with a forever young and beautiful look, just like the so-called beautiful witches in Japan. They are senior in age but their faces show no signs of aging," said Zhang.
Both Xiao and Zhang said many of their friends, male or female, resort to cosmetic procedures to have good looks, as an improvement of their quality of life.
Discussing about where to have quality cosmetic procedures has become popular small talk for many young people nowadays, they said.
Xiao and Zhang like to share their cosmetic procedure experiences online, under the nickname of "Potato Sweet Potato" and "Ying Yue" respectively, and see many followers consulting them about cosmetic procedures.
In fact, the allure of cosmetic procedures has reached seniors also. Traditionally, Chinese seniors, especially female seniors, do not care much about their looks. But the situation is changing, as people now have the money and the patience to care for their looks and life quality, said Jin from Soyoung.
Zhang said her mother became attracted to cosmetic procedures after using them to restore youth at her encouragement. Now, cosmetic procedures are among Zhang's most cherished presents for her mother.
Just like the booming tourism industry, the increasing popularity of cosmetic procedures in China reflects the fact that average Chinese people are becoming rich enough to pursue spiritual pleasure, said cosmetic surgeon Yang.
She noted that cosmetic procedures are medical and invasive, and advised people to have such treatments given by qualified professionals in qualified facilities.