Building on long history of friendly exchanges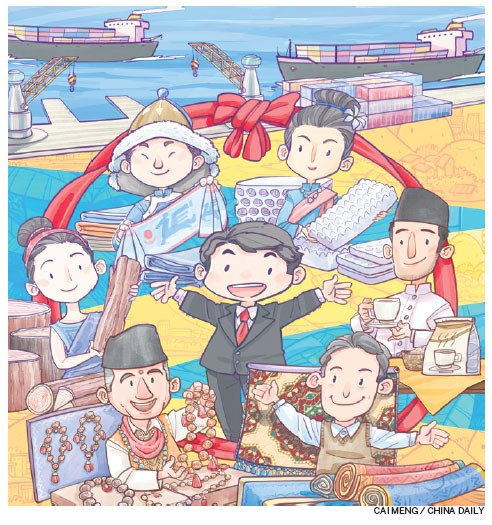 Closer people-to-people bonds are essential for a robust and sustainable China-ASEAN relationship
China and the members of the Association of Southeast Asian Nations share a geographic proximity, similar cultural roots, longstanding trade ties and a long history of friendly exchanges. The historical tradition, the cultural DNA and increasingly closer economic ties, as well as stronger political trust have all laid a solid foundation for both sides to promote greater cultural cooperation.
China has long conducted cultural exchanges with countries in Southeast Asia. And, along with the hundreds of years trade, Chinese people and the Southeast Asian peoples have also developed profound friendships. Recent years have seen more frequent high-level visits, growing political trust and greater efforts to ensure healthy and sustainable relations. Dialogue and consultation mechanisms have been set up between governments, roadmaps proposed for pragmatic cooperation, and communication maintained to resolve issues of mutual concern.
Seismic changes are taking place in the international landscape. Faced with rising protectionism and unilateralism, Asian countries must join hands to advance regional economic integration, defend the free trade system with concrete actions and expand cooperation in economy, finance and technology.
China never wavers in advancing its reform and opening-up. In June, President Xi Jinping, at the G20 Summit in Osaka, unequivocally announced new measures to improve market access and China's business environment, the establishing of a new batch of free trade zones and its commitment to regional integration. Further opening up and the vast Chinese market beckon more export-oriented ASEAN enterprises.
In such a context, closer people-to-people bonds will be a critical factor for a robust and sustainable China-ASEAN relationship.
But how to promote cultural exchanges and people-to-people communication between China and the ASEAN countries?
First, we need to promote greater mutual understanding. The media and academia should be encouraged to play their part in this. Unbiased and informative reports can nurture more affinity and set the tone for friendly discussions. Reporters and researchers doing their part can contribute to a healthy China-ASEAN relationship of mutual respect and trust.
Second, we should advocate mutual learning among civilizations. Both China and the ASEAN countries, as time-honored oriental civilizations, have created a splendid Asian culture. Dialogues on civilization, of varied forms, should be conducted. Seminars, exhibitions, books and online platforms can cement cultural and people-to-people bonds.
Third, we should take the personnel exchanges to the next level. China and ASEAN, as close neighbors, have seen frequent personnel exchanges. According to data unveiled at the 2019 ASEAN Tourism Forum, the number of Chinese tourists to ASEAN countries exceeded 30 million in 2018, a 30 percent year-on-year increase, and in the year the number of outbound tourists from ASEAN to China was 22 million, a 105 percent increase from the previous year. The numbers are bound to rise, as both sides improve their infrastructure connectivity. We need to encourage tourism by providing better services. In such an era of social media, we have to acknowledge the irreplaceable role of tourists in international communication; each one of them is a correspondent and ambassador, who can spread the word far and wide.
Fourth, we need to step up cultural exchanges. Both official and private channels should engage more people to participate in cultural activities, such as film, music, culinary, horticulture and folk culture festivals. The more, the merrier, and the more vibrant the cultural events.
Fifth, we need to get the provinces onboard and tap their potential in cultural exchanges. The different ethnic groups of China have splendid cultures and a great passion to conduct cultural exchanges with ASEAN. For instance, a special China-ASEAN Art Academy has been established in Sichuan province. It provides its 200 ASEAN recruits full scholarships. A company from Yunnan province hires only Cambodian actors to run a big variety show, which is a sensation. Yangzhou of Jiangsu province gives full play to its strength in vocational education by training several hundred ASEAN students. The Beijing Museum of Natural History is discussing in-depth cooperation with a potential Malaysian partner. Many Chinese cities are eager to establish themed towns or parks to promote ASEAN food and culture. The Chinese culture centers and Confucius Institutes in ASEAN countries have already made their mark.
Both China and ASEAN should strive to unleash the force of the people and create more favorable conditions for cultural exchanges to take root and yield fruit.
Sixth, we should focus on the millennials and nurture the next generation of experts of China and ASEAN. The 200,000 overseas students from both sides form a large talent pool. In addition, exchanging visits between civil servants, professionals, university teachers and artists will also enhance understanding and contribute to the everlasting friendship between China and ASEAN.
The author is vice-president of the China Public Diplomacy Association. The author contributed this article to China Watch, a think tank powered by China Daily. The views do not necessarily reflect those of China Daily.