Battery-processors charged with preventing pollution
Share - WeChat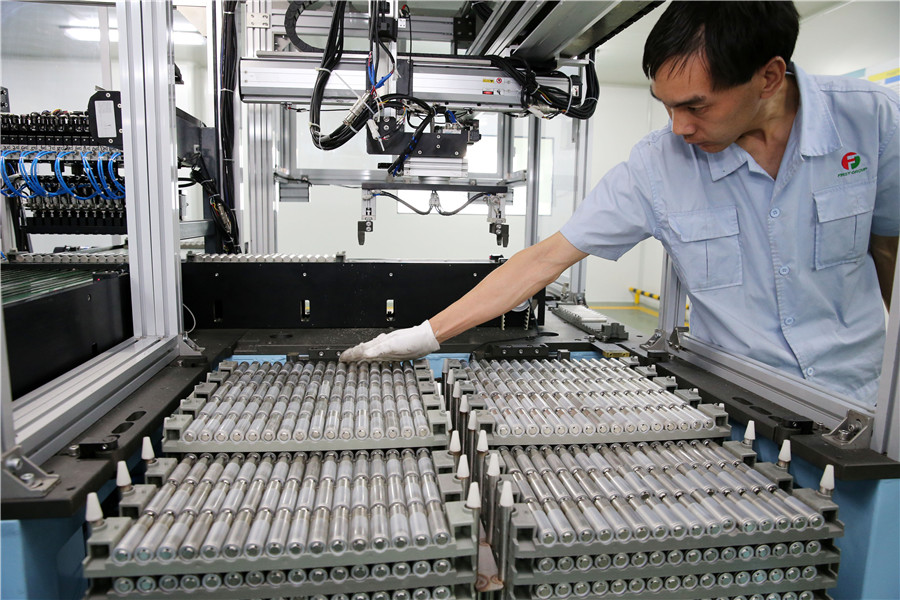 Heavy metals and other materials found in spent fuel cells can pose a risk to humans, animals and the planet. Hou Liqiang reports.
With more than 2 million electric vehicles on the country's roads last year, China is spearheading the global development of new energy transportation.
While the development has been praised in many quarters, the country's ambitious plans to promote e-vehicles, which will be implemented in a number of regions, will present environmental challenges because of the need to neutralize and dispose of large numbers of spent batteries.
Government-backed pilots to establish a system for the recycling of the fuel cells, which fall into the lithium-ion category and contain polluting heavy metals, have been put in place as authorities ratchet up preparations, and several regulations have been introduced.
Experts said the country urgently needs to upgrade its processing technologies, most of which are derived from traditional metal smelting industries, to address the challenges resulting from recycling. More-specific standards should be drafted and greater importance attached to green designs to facilitate the dismantling and possible reuse of spent batteries, they added.
According to the Traffic Management Bureau at the Ministry of Public Security, about 2.6 million new energy vehicles were registered nationwide last year, with more than 80 percent of them being powered by electricity. The bureau said the number of new energy vehicles has risen by an average of 500,000 annually in the past five years, and that trend will accelerate.
Plans have been formulated in many areas to promote new energy vehicles. For example, Hainan province has pledged to phase out sales of gasoline-powered vehicles on the island by 2030. On July 2, Shen Xiaoming, Hainan's governor, announced that starting this year all additions and replacements to public sector vehicle fleets, including buses and government cars, will run on clean energy.