Former child star follows 'destiny'
Share - WeChat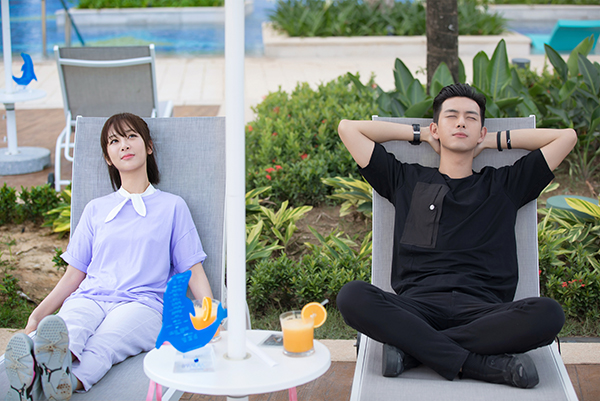 A young actress' transition sets the stage for more leading roles and commanding performances, Wang Ru reports.
The plot, the character portrayed, the director-all play a part, but "destiny "can have a leading role for any actor, Yang Zi says.
"Destiny" certainly set the stage for Yang at a tender age as she started acting when she was just 7.
"There are many roles offered or suggested, but at the end of the day, you can only choose one of them, and that may be destiny."
The actress, who's a veteran at just 27, discussed her career in an interview on July 8 to promote her new TV series, Go Go Squid, which was broadcast on Zhejiang TV and Dragon TV on July 9. Yang plays the role of Tong Nian, a talented computer major who is also a popular online singer. Yang's schoolmate at the Beijing Film Academy, Li Xian, plays her boyfriend, Han Shangyan, a cybersecurity professional. The story is about how they fall in love, support each other and strive to win prizes in international cybersecurity competitions.
Yang can draw on the experiences of roles she played in the past. "Unlike Jinmi (the role she played in Ashes of Love), who is outgoing and innocent, Tong is reserved. But when she talks, she can surprise listeners with her vision. She appears genteel and demure, but there's a fire burning in her heart. She has an inner steel to realize her goals."
As a child star in the family comedy, At Home With Kids, Yang has been a household name in China since her childhood. But this is a two-edged sword. Early success does not readily translate into future fame. She knew many child stars who failed to get suitable roles when they entered adulthood and had to give up their careers. Her own career was not without difficulties. There were many times when she also met similar difficulties and nearly gave up, but she persisted. "I am quite lucky. I like acting, and the audience did not give up on me," says Yang.
Child stars can be pigeon-holed. Cute, adorable, funny and innocent are attributes that need to be discarded for more adult roles. It is one thing for the actor to shed them. It's another thing entirely for the audience to do so.
"Several years ago, I considered how to change the perception people had of me. Change, I realized, could only be possible when I had enough quality work, which could bring the audience with me as I experienced different feelings and faced new challenges," she says.
"Just saying, 'I want to change', or changing my attire and makeup will not work."
Her efforts have paid off.
Most Popular