Tang mixes and matches more than just food
Share - WeChat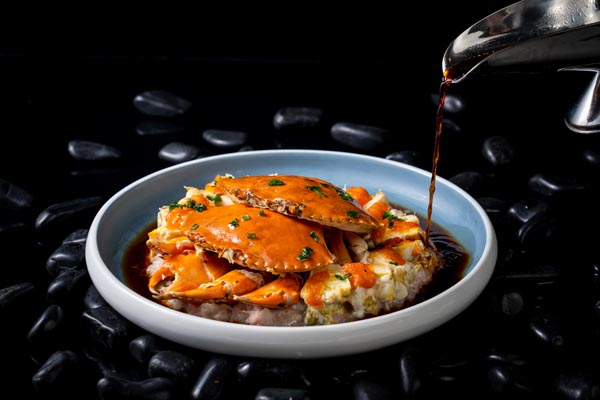 Dunghuang's ancient art is iconic of the prosperous Tang Dynasty (AD 618-907) and meets classical Western aesthetics in the decor of the newly opened restaurant, Tang by Meeting Someone.
The stylish eatery on the top floor of Beijing's landmark Tai Koo Li building features lattice windows that use the colors of Dunhuang's murals and Chinese patterns with French-style arches. It also has a 356-square-meter terrace.
It's the third branch of the Meeting Someone in Beijing chain that seeks to provide escapes from busy living.
The restaurant offers Western and Chinese dishes. Traditional delicacies from Zhejiang province's Taizhou-an area celebrated for its gastronomy-are among the highlights brought by its new chef, Lin Conglai, who has specialized in the cuisine for 16 years.
"Its two signatures are aquaculture and stews," says the 33-year-old, who joined Tang two months ago.
"Both rely on broths-crucian carp for aquaculture and chicken for stews."
Lin started to learn to cook Taizhou food in Zhejiang's capital, Hangzhou, and got the chance to create in the kitchen after a six-month apprenticeship.
"Apprenticeships usually last a year or two," he explains.
"But I worked hard and observed everything in the kitchen. I imitated the chefs to learn all the skills. So, I was promoted to junior chef in half a year."
His master taught him to make the broths, and he honed the skill over a decade.
"The first step to making the carp soup is to kill the fish and drain its blood. If the blood isn't clear, the soup's color won't be creamy," he says.
The fish is then pan-fried until golden. This takes only 15 minutes for an experienced chef but may take a newbie half an hour.
A small amount of water is poured in and brought to a boil before more is added.