Long Museum holds New China art exhibition
Share - WeChat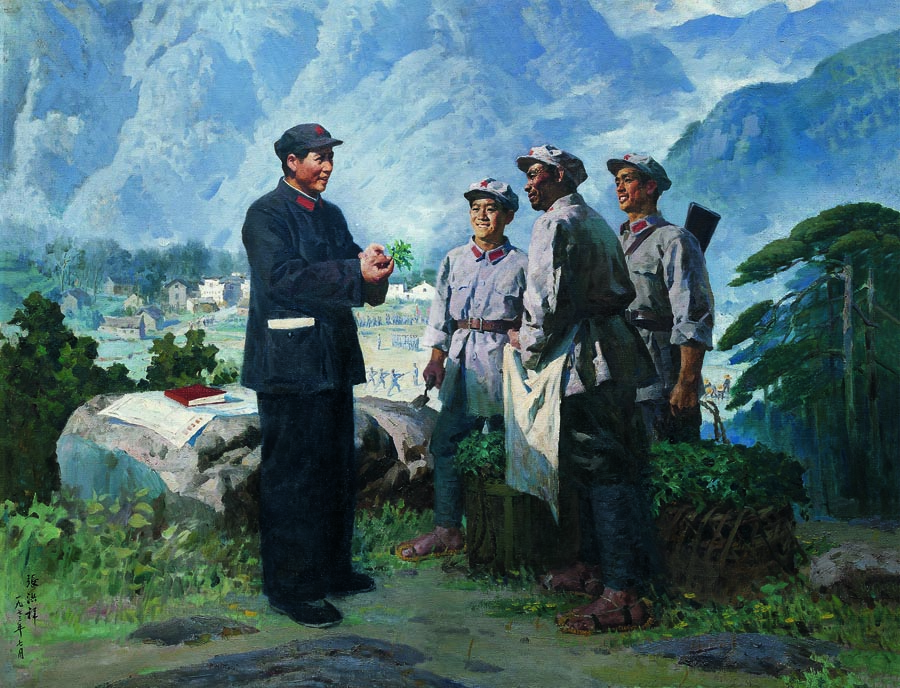 The ongoing exhibition in Shanghai is presented in six chapters. The first part, which is titled Leaders and the Revolution, features artworks about the early life and achievements of Mao Zedong before 1949.
The second part, War and Peace, features heroic soldiers in the Long March (1934-36), on the battlefields fighting against Japanese invaders during the War of Resistance against Japanese Aggression (1931-45) and in the Korean War (1950-53).
The third section comprises portraits of Chairman Mao from the 1960-70s when art was used as a major tool for politics. Art that was produced during this period can be easily identified by its distinctive style.
The other three chapters are about innovation and experimentation, the construction of New China, and the development of Chinese society.
"Chen Yifei already showed his extraordinary creative power with a series of historical paintings ... but in this piece he gave up the realistic creative methods which he used so adeptly," says Chen Lyusheng, referring to the exhibition centerpiece Thinking of the Seven Decades of History at My Space.
According to Chen Lyusheng, the work features a combination of multiple layers of blurred images of historical events and a painting of the artist's own back, making it seem as if he is meditating before history.
"It was a challenge to the established principles in the creation of historical paintings in China," Chen Lyusheng adds. "The artist Chen Yifei was exploring new possibilities in this field. The painting appeared in a special period of history after the 'cultural revolution' (1966-76), and was one of the first signs of post-modernism appearing in the Chinese art scene."
Born in 1946, Chen Yifei was one of the first Chinese artists to win recognition in the international art scene. In his later years, Chen established a business focused on visual art, achieving major breakthroughs in filmmaking, fashion design and publishing. He died in Shanghai in 2005.
In 2009, Wang bought Thinking of the Seven Decades of History at My Space for 43 million yuan ($6.25 million), making it the most valuable painting with a revolutionary theme in the Long Museum's collection.
"Chen Yifei was an artist from Shanghai and so were my family and me. It meant a lot to us to bring the painting back home to Shanghai," said Wang.