China's second research icebreaker to enter service
Share - WeChat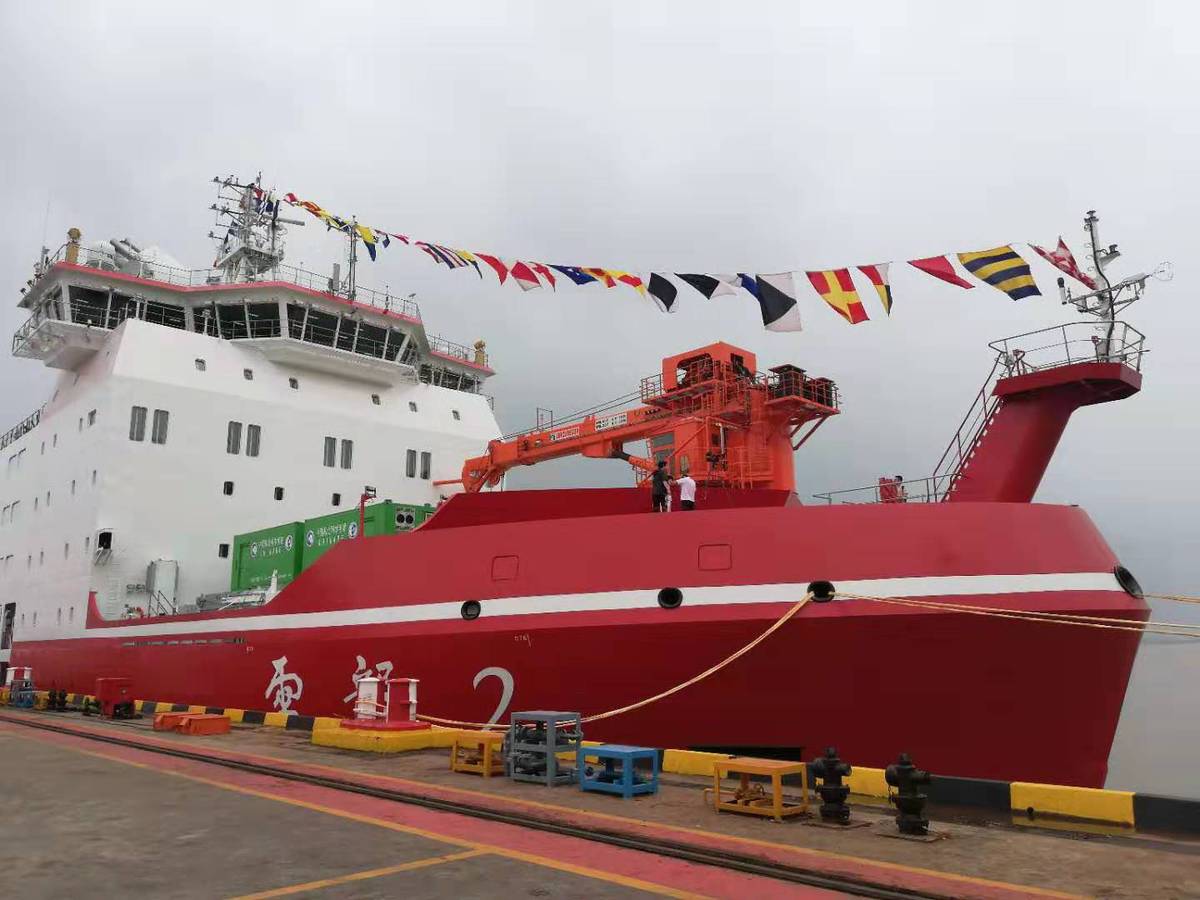 China's second research icebreaker, Xuelong 2 (Snow Dragon 2), will enter service in Shanghai on Thursday afternoon.
The ship, the country's first domestically built research icebreaker, will be delivered to the Ministry of Natural Resources' Polar Research Institute of China at a commissioning ceremony at Jiangnan Shipyard Group, which built the vessel.
Xuelong 2 will enable China to better support its polar research and expeditions, the ministry said.
The Xuelong 2 project was organized by the polar research institute.
The ship was jointly designed by Finland's Aker Arctic Technology in Helsinki and the Marine Design and Research Institute in Shanghai. Construction began at Jiangnan Shipyard Group in December 2016.
The Marine Design and Research Institute and Jiangnan Shipyard Group are both parts of China State Shipbuilding Corp, a State-owned shipbuilding conglomerate.
Xuelong 2 is 122.5 meters long, 22.3 meters wide, and has a displacement of 13,996 metric tons. With a maximum speed of 15 knots, or 27.8 kilometers per hour, it can sail more than 37,000 km in a single voyage and sustain 60-day expeditions with 90 crew members and researchers, according to China State Shipbuilding Corp.
Incorporating state-of-the-art design and advanced equipment, the icebreaker is capable of operating in any ocean.
It is equipped with world-class oceanographic survey and monitoring apparatus, allowing experts to carry out research into polar regions' physical oceanography, biodiversity, and atmospheric and environmental conditions, as well as conduct fishery resource surveys.
Before the delivery of Xuelong 2, China operated a single icebreaker, Xuelong, which was designed for cargo transportation rather than scientific research operations when it was built in Ukraine in 1993. Xuelong was purchased by China and converted into a polar research and resupply vessel. It has carried out dozens of scientific expeditions to the Arctic and Antarctic.
Researchers will now test and fine-tune the scientific instruments on Xuelong 2 before its first mission, China's 36th Antarctic expedition, later this year alongside Xuelong, the ministry said.