A new class of roboteers
Share - WeChat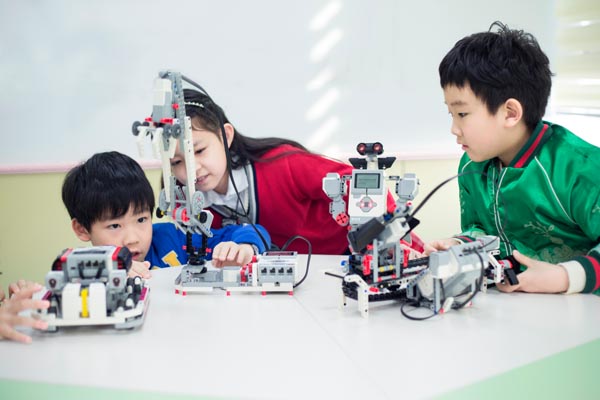 Programming and building machines for the upcoming RoboRAVE competition is helping to drive youngsters' interest in STEM careers, Xing Wen reports.
Inside the rectangular "arena", marked by black and white lines, the robot, swaying while moving, attempts to approach a lit candle and extinguish it without contact.
The children squatting around the perimeter hold their breath and narrowly fix their eyes on each movement of the robot they've designed, built and programmed.
This fire-fighting challenge will be just one of several varied challenges that these young participants and their mechanical charges will have to successfully negotiate to ensure victory at the 2019 RoboRAVE International Robotics Education and Competition, which kicks off in Guangzhou, South China's Guangdong province, on July 19.
RoboRAVE, standing for "Robots Are Very Educational", has grown from a small contest based in New Mexico in the United States, starting with just 25 high school students and three teachers 18 years ago, into an international event, this year being contested by more than 2,000 students from over 20 countries including France, Spain, Japan and China.
Co-founder Russ Fisher-Ives hopes that the event will engage more children in the science, technology, engineering and mathematics, or STEM, fields.
"We have been using traditional hooks like the Science Olympiad (a premier science contest for US students) to get kids into these fields. When I saw robotics, I realized, this is the most powerful tool to bring children in," he says in a video on the RoboRAVE's official website.
A growing number of Chinese students have been lured in by the fun of building and programming the robots. According to the statistics released by Tongchengtongmei, a branch offering programming courses under IT education provider Tarena International, over 50,000 students across the country are following its tutorials and using its textbooks on programming, ranging from beginners and intermediate learners to advanced learners.
Han Qianhao is one of them.
The 10-year-old took up robotics programming three years ago when she was studying at an international school, Dulwich College Beijing.
Before that, Qianhao had been already involved in dancing and playing the piano for years. However, she found that what she gained from learning robotics is quite different from pursuing other hobbies.
"It's very challenging," says Qianhao. "Even though we've tested the reliability of our robots many times, they can still fail during the competition. Hence, we have to take every precaution to deal with potential problems that might arise."
Most Popular