News center for Asian cultures event opens doors
Share - WeChat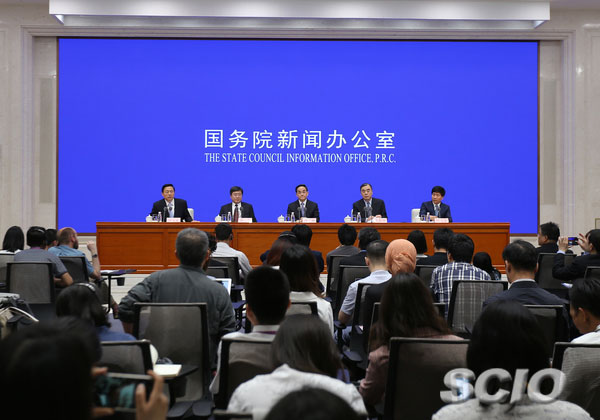 A media center for the approaching Conference on Dialogue of Asian Civilizations began trial operations on Monday before its official opening on Tuesday at the China National Convention Center in Beijing.
The 11,000-square-meter media center, located in the convention center's E1 and E2 exhibition halls, offers two separate newsrooms accommodating 260 and 150 reporters, respectively.
A workroom for up to 546 reporters is also available.
Ru Tao, director with the media center's general management, said that culture-oriented exhibitions and projects, including traditional Chinese paintings, are also open to reporters and conference attendees.
Zhang Yale, a coordinator from the Beijing Decorative Porcelain Museum, said four displays featuring Chinese intangible cultural heritage are ready to receive members of the media.
"The dialogue focuses on cultural exchanges among countries and regions in Asia," he said.
"We hope that people who get involved in our participatory projects will learn more about Chinese culture by making these handicrafts themselves. It also eases their work tension."
The four displays include traditional Chinese painting and ceramics, he said, and demonstrations are free of charge. "All these items look small, but take great effort to make," he said.
High-tech is also a highlight of the media center's operations as robotic assistants, virtual reality and 3D printing projects are available.
Xia Min, a partner at Beijing-based 3D-FAB Ltd, is responsible for introducing 3D-printing technology to reporters and conference attendees.
"We applied new 3D-printing technology called LEAP (Light Enabled Additive Production), whose print speed is 100 times faster than traditional 3D printing. This shortens the time to make a finished product to about 10 minutes," Xia said.
"Reporters and conference participants can paint their own logos with different colored pens," she said. "Actually, many people have no idea about 3D printing, so it's quite important to popularize this technology and let people know the progress China has achieved in this area."
A robot named Ai Mi is ready to greet and assist journalists and attendees at the media center. Staff members of the center said Ai Mi can give information to conference attendees in face-to-face conversations.
So far, over 2,900 reporters from home and abroad have signed up to attend the conference, about 380 of whom are from overseas media groups. The media center will be open until Thursday evening.