A new class of roboteers
Share - WeChat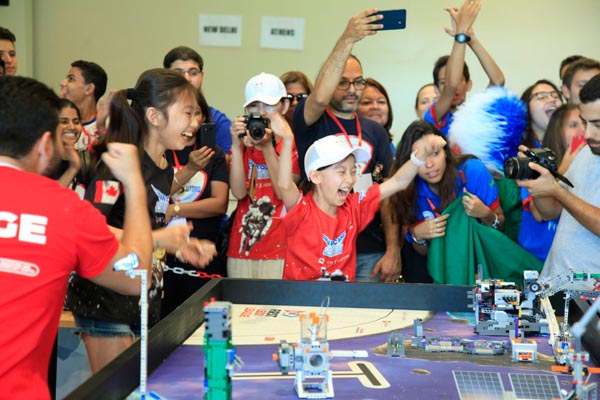 Qianhao's mother adds that it's nearly impossible for a veteran dancer to get a zero in a dance competition, even if he or she fails to bring their full talent to bear, but an awkward, zero-point situation is more likely to befall a veteran robotics contestant, because sometimes the environmental uncertainties can have a negative impact on the performance of the robot.
"She needs to be mentally and emotionally strong enough to accept the fact that all her efforts might lead to naught in a robotics competition and cope with all these game-based engineering challenges," Qianhao's mother says. "Then it will be easier in the future."
Qianhao's mother has noticed that Qianhao "is growing to be a more considerate and decisive player in the field".
Qianhao went to study at a single-gender school based in Toronto, Canada, last year and found that her interest in robotics helped her to integrate more effectively into the new environment. She's also a student at Doctor X Academy in Toronto, mentored by its founder, Haipeng Xie, in robotics programming.
"We formed a team and built our project together, where I was able to learn from the others and their strong points via communication and collaboration," she says.
On June 16, the team was crowned "the robot performance" champion of the official FIRST Lego League Lebanon International Open, another global robotics competition.
To better gear up for the upcoming RoboRAVE in Guangzhou, Xie, a Chinese Canadian adjunct engineering professor from the University of Toronto has been invited by Tongchengtongmei to run a 10-day course to teach the Chinese delegation how to improve the reliability and consistency of their robots' performance.
Xie holds true to the idea that by learning programming and coding, children will nurture their logical thinking skills and learn real-life engineering principles, all while developing a team spirit and unleashing their imagination, which will help create their own innovative solutions.
Xie says his 14-year-old son, Zachary, was once a game addict, but rather than sitting like a zombie, staring at a blinking screen, he now knows how to program a video game after he took an interest in programming and robotics.
Zachary says: "To play a video game, you really don't learn much unless it's a strategy game.
"However, for robotics, you have to solve different problems; it could be a fault in the mechanical design or a bug in the programming."
Zachary works as an assistant to his father, who coaches Chinese teachers and students on the training course and says that he wants to create a hands-on STEM experience for them.
Regarding his future career, Zachary says: " I'm pretty sure I will pursue my career in one of the STEM fields. These robot competitions would be extremely beneficial for me as they are all part of STEM learning."
His teammate Angelina Zeng, 11, agrees, adding that after getting obsessed with robotics, she plans to seek out a career which combines STEM with other fields, such as business and design, which she is also passionate about.
These robotics enthusiasts' stories just echo the motto of RoboRAVE - "today's play, tomorrow's pay".
Most Popular