The sage in our age
Share - WeChat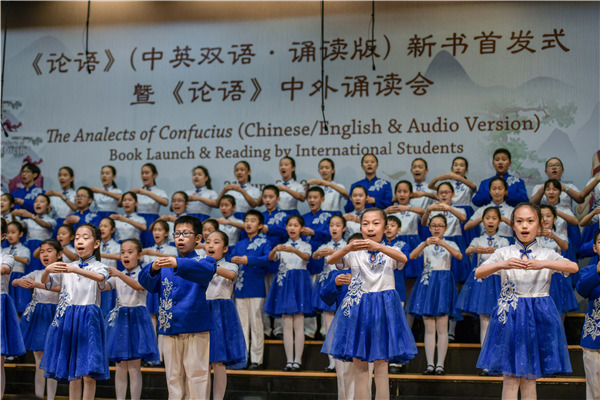 Veteran Chinese translator Xu Yuanchong published his rendering of The Analects in English in 2011. It was released by China Intercontinental Press under the title, Thus Spoke the Master.
In the book's preface, Xu recounts an anecdote about 75 Nobel Prize winners, who gathered at Paris in 1988 and made a statement to the effect that humankind should seek wisdom from Confucius to live peaceful and happy lives in the 21st century.
"If all the world preached and practiced against violence and disorder, then even the conflicting sides in the world could be reconciled. That is the reason, I think, the Nobel Prize winners would seek wisdom from Confucius to put the world in good order," Xu says.
This may partly explain why The Analects continues to attract increasing numbers of readers and fans worldwide. The publisher says its samples drew a lot of attention at the Book Expo America, which took place in the United States in late May.
In China, more schools are listing it among their must-read books and present it in the form of various activities as part of their curriculums.
It is hoped that this new bilingual audio version will help students to value the roots of Chinese culture and enable them to think and communicate with international insight, says Huang Lihua, a senior teacher with Beijing No 2 Experimental Primary School.
The book's editors summarize the core of Confucius' thought as ren, or benevolence, which is one of the most important sources of traditional Chinese culture.
In the 18th century, English poet Alexander Pope realized that and wrote in The Temple of Fame: "Superior and alone, Confucius stood, Who taught that useful science, to be good."
Most Popular