Liangzhou students seek Confucian blessings before gaokao
Share - WeChat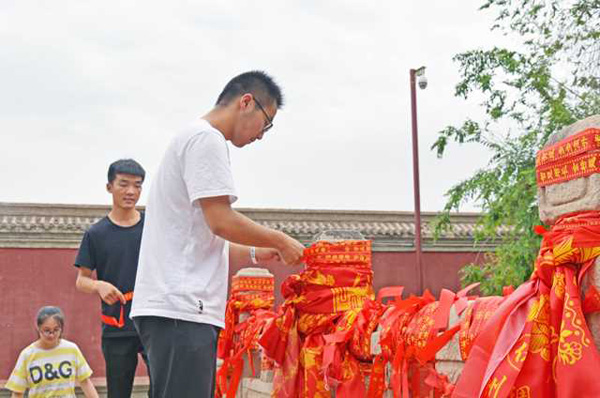 It is perhaps little surprise that every year, in the days leading up to the national college entrance examination, the Wen Temple located in Liangzhou district of Wuwei, Gansu province, is inundated with students and their parents looking for a little divine intervention on the big day.
This year was no exception, and the Wen Temple-the country's third-largest temple dedicated to Confucius-played host to thousands of local visitors.
The temple complex, built in 1439 during the Ming Dynasty (1368-1644), was once entitled the "unparalleled Confucian academy in Gansu province" and experienced many years of expansion.
The existing Wen Temple is comprised of three groups of structures-the Confucius Academy, the Wenchang Pavilion and the Dacheng Palace, with the last being the best preserved. Along with Zhuangyuan bridge, Lingxing Gate and the statue of Confucius, Dacheng Palace, the place for worshipping Confucius, stands on the axis of the whole complex and is flanked by ancient, towering trees.
A group of 44 well-preserved plaques hanging beneath the eaves of Wenchang Pavilion are eye-catching, and date from the reign of Emperor Kangxi in 1695 to 1939.
As an art form peculiar to traditional Chinese culture, the plaques are often inscribed with an aphorism or a classical allusion, concise and sobering. Among the inscriptions on the 44 plaques in Wen Temple, some reflect the culture of respecting intellect in Liangzhou district, while others extol the virtues of Wenchang.
These plaques are all inscribed with the work of prestigious calligraphers and the words of political figures of the day and, thus, considered high in both historical and aesthetic value. Additionally, the volume of the plaques, along with their level of preservation, is also a rarity.
"The temple is the cradle for sages, and is said to be where Wenchang, the Taoist deity in charge of fame and fortune, designates the Zhuangyuan (top candidate). Therefore, the place is regarded as a symbol of wisdom and blessing," says Ji Chunmei, who has worked at Wen Temple as a guide for 22 years.