Learn Chinese in Riyadh
Share - WeChat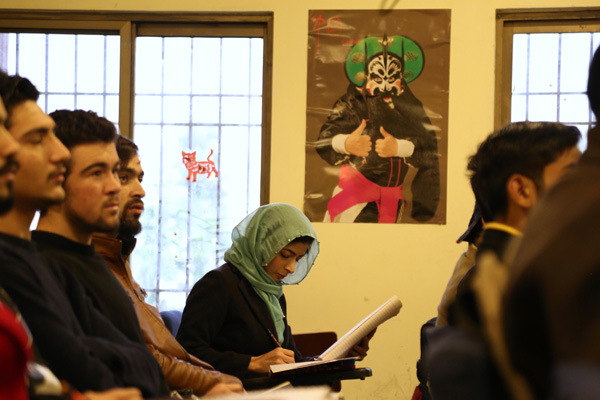 Saudi university signs agreement with Confucius Institute, Fang Aiqing reports.
The Confucius Institute Headquarters signed an agreement in Beijing on Monday for the provision of Chinese language instructors to Saudi Arabia's King Saud University.
According to the agreement, the Confucius Institute Headquarters will send Chinese language instructors to help the university teach Chinese and launch a Chinese language department.
The university in the Saudi capital, Riyadh, was founded in 1957 and is among the oldest and best known public universities in both the country and the wider Arab and Islamic world.
Ma Jianfei, deputy chief executive of Confucius Institute Headquarters, and Badran al-Omar, principal of King Saud University, signed the agreement, which was witnessed by Saudi Ambassador to China Turki bin Mohammed al-Madi.
Saudi Arabia's ministry of education has also set up a coordinating committee to work with the Chinese side to enhance the training of Chinese language instructors in the country and advance Chinese language education in its universities and schools.
In February, Mohammed bin Salman Al Saud, Saudi Arabia's crown prince, proposed that the country would introduce Chinese language into the curriculum at all stages of education during his meeting with President Xi Jinping in Beijing.
Ma says the two sides have been in frequent contact over the past three months and the signed agreement serves as an important measure to support Saudi Arabia with its Chinese language education.
The Confucius Institute Headquarters will deepen the cooperation with the university by jointly establishing a Confucius Institute branch, training local Chinese language instructors in Saudi Arabia and compiling Chinese textbooks in Arabic, Ma adds.
Al-Omar says King Saud University was the first university in Saudi Arabia to launch a Chinese language course. Since its establishment in 2010, 35 students have signed up to learn the language.
This semester, six of them are learning Chinese from a local teacher and one sent from China, and the number of students learning Chinese is estimated to reach 30 by September.
According to Al-Omar, the university is preparing to build a Chinese language department and the agreement will benefit its Chinese language education program and the development of bilateral relations.
Most Popular