Drone makes first postal delivery
Share - WeChat A Chinese private company has begun working with China Post on a trial operation that deploys drones to transport cargo.
UVS Intelligence System, a privately owned drone-maker in Shanghai, said that a U650 cargo drone carried out China's first drone-based postal delivery on May 29, transporting about 200 kilograms of goods from Shanghai's Jinshan district to Shengsi Island of Zhejiang province's Zhoushan Archipelago in a 52-minute flight.
China Post confirmed that the operation was the first drone-based, cross-sea postal delivery in China.
According to UVS, the drone flew 110 kilometers at an average speed of 135 kilometers per hour during the operation.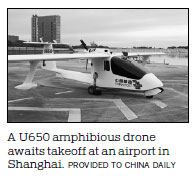 Liu Jiandong, founder and chairman of UVS, said on Monday that China Post and his company chose the route between Shanghai and Zhoushan for the trial operation for two reasons.
"First, the Zhoushan Archipelago has a lot of islands, and transportation between them is underdeveloped, so the postal services are not so convenient there," he said. "Drone-based delivery is very suitable for them."
"Second, our drone is amphibious, and the entire route is above the sea, so we don't need to invest in infrastructure or worry about the safety of residents along the route," Liu explained, adding that the conventional method of delivering goods between the city and the island is by ship and usually takes two to three hours.
The company now has plans to open several delivery routes within the next two to three months with China Post along the country's eastern coastal regions and is waiting for approval from civil aviation authorities, Liu said.
He also said that mass production of the U650 is expected to start before the end of this year, and the company wants to make dozens of the drones each year.
Dubbed by UVS as the world's first unmanned, amphibious commercial aircraft, the U650 was developed based on Spain's Colyaer Freedom S100 amphibious ultralight aircraft, the intellectual property rights of which were wholly acquired by the Shanghai company, according to the company.
The 5.85-meter-long unmanned seaplane, made of carbon fiber, is able to stay aloft 15 hours with a cruising speed of 180 km/h and a flight range of 2,000 km. It is capable of takeoffs and landings from short unpaved airstrips, grasslands or water.
The drone can carry up to 250 kg of cargo, and its wings can also carry four payloads, such as inflatable life rafts. It carried out its maiden flight from waters in Central China in December 2015.
Almost all of China's large couriers, such as China Post and SF Express, as well as online retailing giant JD, have been investing in research and development on delivery drones for several years. Industry observers have anticipated that there will be many opportunities for drones to coincide with the rapid growth of China's online shopping industry.