Marriage customs rule a relief in rural Hebei
Share - WeChat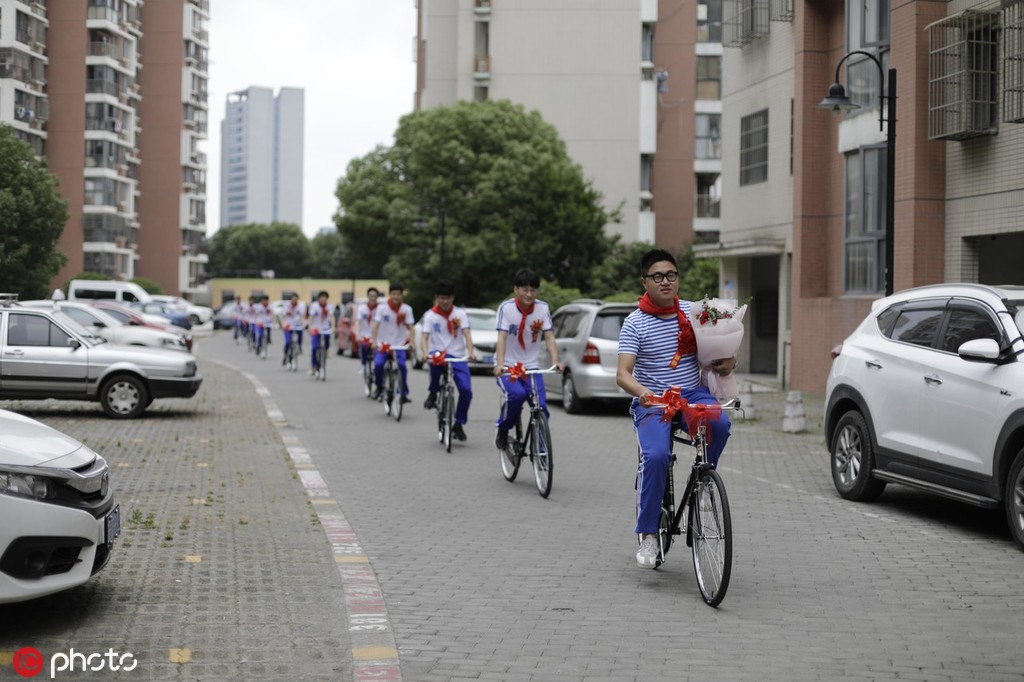 A pair of gloves and socks were all the betrothal gifts needed for a rural man in China to prepare for a marriage in the 1980s, but the gifts in modern times have evolved into huge amounts of money, putting great pressure on rural families.
"I took my wife home by riding a bicycle on the day I got married," said Shan Yinhe, a 55-year-old rural villager in Handan, in northern China's Hebei province.
A marriage ritual in the country's northern areas usually starts with the bridegroom picking up the bride in the morning from her home and bringing her to his home, both accompanied by families, relatives and friends. Then a wedding ceremony is held around noon.
Shan got married in 1988 in Nanduqi village in Feixiang district, about 400 kilometers southwest of Beijing.
Shan prepared a pair of brand-new gloves and socks for his bride's family, which were all he could manage but were enough for him to begin a happy marriage.
Three decades and two adult sons later, Shan began to feel stressed by the high cost of modern marriages.
At the end of 2017, his second son was about to marry his girlfriend, with whom he had been in a relationship for five years. Shan was gratified to see his son happy. But the happiness was accompanied by great pressure.
He needed to come up with a lot of money - 60,000 yuan ($8,722) as betrothal gifts for the bride's family - to pay for his son's wedding.
"It is local custom for the bridegroom's family to give money to the bride's family, but the amount has been mounting in the past few years," Shan said, adding that there is competition among villagers.
Although the amount was at a medium level compared with the cost of other marriages in Shan's village - where some have topped 150,000 yuan - the expense he bore was equal to about two years of his family's total income.
Shan earns 2,000 yuan a month as an accountant at the government of Tiantaishan town, which covers his village. He and his family also grow crops on 0.7 hectares of land, which can yield about 5,000 yuan each year.
An end to extravagance
"But I must borrow that money from my relatives and friends because all my saved money has been spent on building a new home for the young couple and buying new necessities for them, such as household appliances," Shan said.
Luckily, Shan had reason to celebrate because he was saved by a new rule.
Right before the wedding, a specific standard was established banning high-priced betrothal gifts, or caili in Chinese. Other extravagant customs, including holding grand wedding ceremonies or funeral rites as well as inviting an exorbitant number of guests and using lots of cars to pick up the bride and her relatives, were also prohibited.
The government of Feixiang district - which covers 265 villages, including Shan's, with a population of 410,000 - found the competition to see who could give the best betrothal gifts and hold the grandest wedding ceremonies had become a big headache for villagers.
Families of young women envied those who gave lots of money to a bride's family and held expensive ceremonies with many guests, said Cai Fuhai, Party chief of Nanduqi village.
They would ask parents of their soon-to-be sons-in-law for similar treatment, Cai said.
According to the standard, no more than six cars can be used for picking up the bride and her relatives. Previously, up to 40 cars would be used as part of a grand and impressive wedding ceremony.
Furthermore, guests are served a simple meal - a vegetable and meat stew, or daguocai in Chinese - rather than a meal with dozens of courses. Finally, group wedding ceremonies are encouraged and betrothal gifts are discouraged.
Families who obey the standard may enjoy benefits such as free physical examinations for parents and newborns at local hospitals. Pregnant women may also receive discounts for examinations during pregnancy, Cai said.
Families who do not obey the rules are required to make a self-critical speech during a meeting attended by villagers and local government officials. Those who refuse to make the speech and admit their wrongdoings are exposed on local television and other media platforms.
Villagers fall in line
According to the Feixiang district government, more than 1,000 families of young women have refrained from demanding betrothal gifts from their bridegrooms' families since 2017. About 100,000 households in the district have signed commitment letters promising to obey the standard.
Government statistics show that the cost of a wedding has been cut to less than 30,000 yuan, down by about 80 percent, and the current cost for a funeral is less than 5,000 yuan, just a sixth of the previous cost.
The reason for the high-priced betrothal gifts is because of the poverty pervasive in rural areas and the competition among different families, Pei Chunliang, a deputy to the National People's Congress, was quoted as saying last year by thecover.cn, a news website.
Pei, who is also Party chief of a community in Central China's Henan province, said some poor families hope to change their economic conditions by marrying off their daughters.
"To develop the rural economy and improve villagers' income will be the way to root out the trend," he said.
Some other provinces, including Henan and Gansu, have also established rules or standards regarding marriage and funeral customs.
In addition, there could be a nationwide crackdown on such extravagant customs after a suggestion on the development of rural areas released by the Communist Party of China Central Committee and the State Council in February described such customs as unhealthy social trends.