Slow trains send students from poor villages to urban schools
Share - WeChat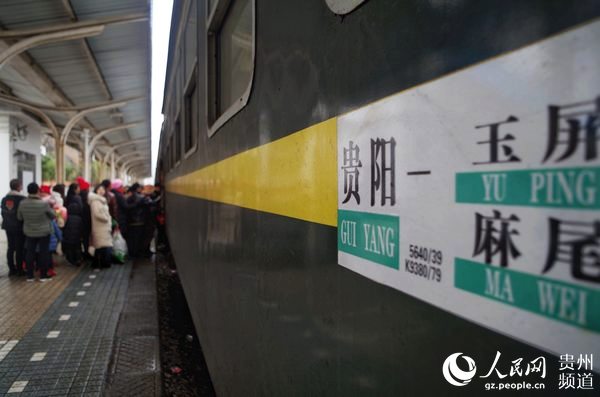 Traveling at a speed of about 40 kilometers per hour, a pair of old-fashioned low-speed green trains have provided nearly 279,000 trips for poor students in remote southwestern China for 22 years, connecting poor villages with urban schools in Guizhou province, China Youth Daily reported on Monday.
Train No 5640 sets out from the provincial capital Guiyang, runs through big stations like Kaili and Shibing, and also stops at smaller ones in ethnic minority villages. Train No 5639 runs in the opposite direction.
Thousands of students, including those at universities as well as high and middle schools, have taken the trains since their launch in 1997, according to the Guizhou section of the China Railway Chengdu Group Co Ltd.
For at least 700 young people onboard, the trains have witnessed their journeys from poor backgrounds to pursue further studies, including some in undergraduate or postgraduate programs.
The 23-year-old Pan Ziwen, from the Miao ethnic group in Shuangshan village, Gulong township, Huangping county, is one of them. He was enrolled by Guizhou Normal University in 2016, the first university student for his family.
Pan Dongzi, 19, took the train to go to his high school in the county seat of Huangping during his senior year. Each time, he walked 10 minutes from home to arrive at a small station called Baolaoshan. Then he took the train to the county seat. Soon after 12 am on Monday when the province made public scores for gaokao, or the national college entrance exam, Pan checked online for his scores and found he got 622 points. He may realize his dream of going to university now.
For generations, the rail route has been an important passage to the world outside for those villagers.
"Without the slow trains, I probably would have had no chance to study at a school outside my village and the trajectory of my life might have changed," said 21-year-old Tao Bingli.
She used the trains to go between her home village to high school. And after she enrolled in a university in Guiyang in 2016, she also took the trains to travel from her home to Guizhou Minzu University. The only change from the trip to high school was the number of stations, which increased from two to six.
Hu Guichuan, who has worked on the slow trains for almost 22 years, said the proportion of student passengers is on the increase, which means that people in the poverty-stricken mountainous minority areas are giving more and more importance to higher education.
As he recalled, in the late 1990s, it was rare to see university students on these carriages in their recognizable suits.
"I hope these slow, though time-consuming, cheap and convenient trains can exist forever," he added.