Police identify body buried at high school
Share - WeChat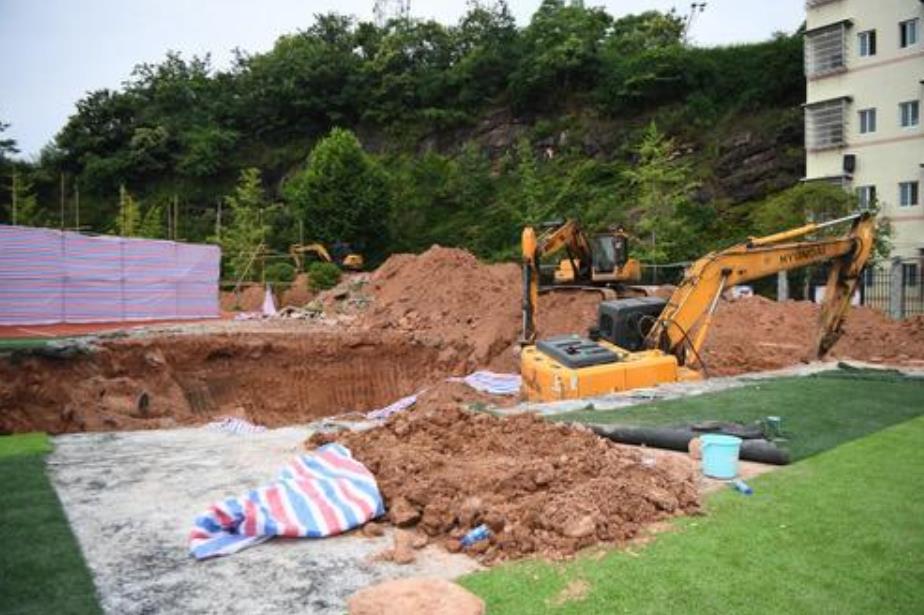 City official vows to pursue criminals behind unsolved 'major old cases'
Police in Huaihua, Hunan province, confirmed on Sunday night that a body found buried under a high school sports ground last week is that of Deng Shiping, a former member of the school's maintenance staff, who went missing more than 16 years ago.
Just after midnight on Wednesday, police dug up a body that had been buried under the running track at Xinhuang No 1 Middle School many years ago.
The remains retrieved were a skeleton and fragments of clothing, Huaihua police said.
The police said they discovered the body after an alleged member of a criminal gang, Du Shaoping, confessed during a crackdown on gang-related crimes in mid-April that he had killed a man surnamed Deng. Du said he murdered Deng in January 2003 and buried him under the sports ground.
As police investigate the case, the city's top official pledged the authorities will get to the bottom of "major old cases" and bring those responsible to justice.
Peng Guofu, Party chief of Huaihua, said on Friday that the authorities must get to the bottom of "major old cases" and bring those responsible to justice, no matter who they are, Huaihua Daily reported on Saturday.
Deng, in his early 50s, was in charge of quality control during the building of the sports ground.
He was targeted because he refused to ignore quality and embezzlement issues related to the project, his son, Deng Lanbing, said in a post on Sina Weibo.
Deng Lanbing, who was 15 when his father went missing, said the police had taken blood samples from him and other family members to help identify the body. Police said on Sunday a match was made using the DNA samples.
"Many have forgotten about my father, who may have been buried under the sports ground that the students have been playing on all these years," Deng Lanbing said.
Du was in charge of the construction of the sports ground. He is also the nephew of Huang Bingsong, the headmaster of the school at the time. Xinhuang county police said on Thursday that 10 people, including Huang, were put under police surveillance soon after the body was discovered.
Huang has now been placed under investigation by the local disciplinary authorities.
During the police investigation, two people who worked at the construction site said they helped Du bury Deng's body, Xinhua News Agency reported.
According to a petition letter recently drafted by Deng Lanbing, Du had threatened his father several times in public after his father complained the project was too expensive and had quality issues.
The letter was addressed to a central government work group supervising the local crackdown on gang crimes.
China launched a three-year nationwide campaign to eradicate criminal gangs in January last year.
Before the body was identified, Deng Lanbing wrote, "I want to know the truth more than anyone," adding that he had never stopped looking for his father.