Roast duck rolls out as new offering
Share - WeChat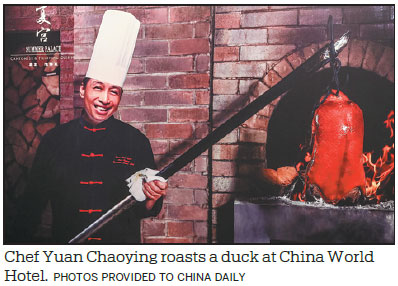 Chinese restaurant Summer Palace at China World Hotel began serving the Peking roast duck last week under the guidance of Chef Yuan Chaoying, a culinary expert specializing in Beijing cuisine. The chef is bringing the golden-brown, mouthwatering dish for customers throughout the summer.
"From the Forbidden City to the Temple of Heaven, Beijing has plenty of incredible sights. But one of the city's greatest attractions, Peking duck, is actually made in the kitchen," said Stephan Kapek, general manager of the hotel. "Summer Palace now has its own version of this iconic dish."
According to Summer Palace, its culinary team will use traditional cooking methods to process the Peking duck. To make the duck, they hang it up to roast in an oven fired with jujube wood ensuring the meat is tender and the skin is perfectly cooked to a crisp.
In addition to the traditional accompaniments, such as pancakes, sliced scallions and cucumber, the Peking duck at Summer Palace is served with Yuan's homemade Peking duck sauce, which is healthy, free of preservatives, and has a shelf life of 45 days.
Yuan has more than 40 years' experience in the culinary industry. He used to work in Quanjude, a time-honored restaurant known for Peking duck, and other renowned dining venues.
He makes efforts to promote the Peking duck around the world, including in Japan, Germany, France and Sri Lanka.
Kenny Chan, executive chef of Summer Palace, and chef of Huaiyang cuisine Min Cunlong have also created a series of duck dishes inspired by their respective Cantonese and Huaiyang cuisines.
Most Popular