Summer tea set for a limited time in Beijing
Share - WeChat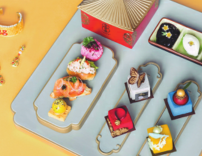 The Ritz-Carlton Beijing, Financial Street is introducing a Chinese court-style afternoon tea set from June 16 to Sept 15.
Joining forces with The Palace Gift, the jewelry brand authorized by the Palace Museum Cultural Products and Services, the hotel has injected elements of the most illustrious cultural treasures in the Forbidden City into the themed afternoon tea, offering a delightful experience for those who love Chinese culture.
Presented on silver trays decked with patterns of auspicious clouds, the afternoon tea set features four customized desserts, all paired harmoniously with The Palace Gift jewelry, making it a sophisticated afternoon affair in Chinese royal style.
Highlights of the tea set include a caramel cappuccino cream mousse cake with a cuddly butterfly at the top and a picture of a lady in the imperial palace on the chocolate tile.
The cherry and lychee cremeux is inspired by the Chinese close-fitting dress cheongsam, also known as qipao, and its buttons.
Freshly baked cranberry scones, two glasses of rose wine and two cups of coffee with foam lattes in a 3D effect, which can be shaped according to favorite photos provided by guests, are also part of the afternoon tea set.
Guests can add an extra 200 yuan ($30) for a The Palace Gift swallow necklace and earring set, which is a hefty cut from the original price of 699 yuan, according to the hotel.
In addition to this meticulously crafted afternoon treat, a display of The Palace Gift's Marriage Jewelry Series, co-organized by the two parties, is being held on the hotel's first floor.
According to the jewelry brand, it takes eight important moments of life - birth, becoming an adult, starting university, getting married, birthdays, moving into a new house, Spring Festival celebrations, and celebrating the health and longevity of the elderly in the family - as its core. Holding a wedding is one of them.
The Marriage Jewelry Series draws inspiration from the grand traditions of the ancient Chinese royal wedding ceremony, echoing the brand's philosophy of integrating Chinese-court style into modern creativity, according to the brand.
Most Popular