Fujian strives to attract Taiwan entrepreneurs
Share - WeChat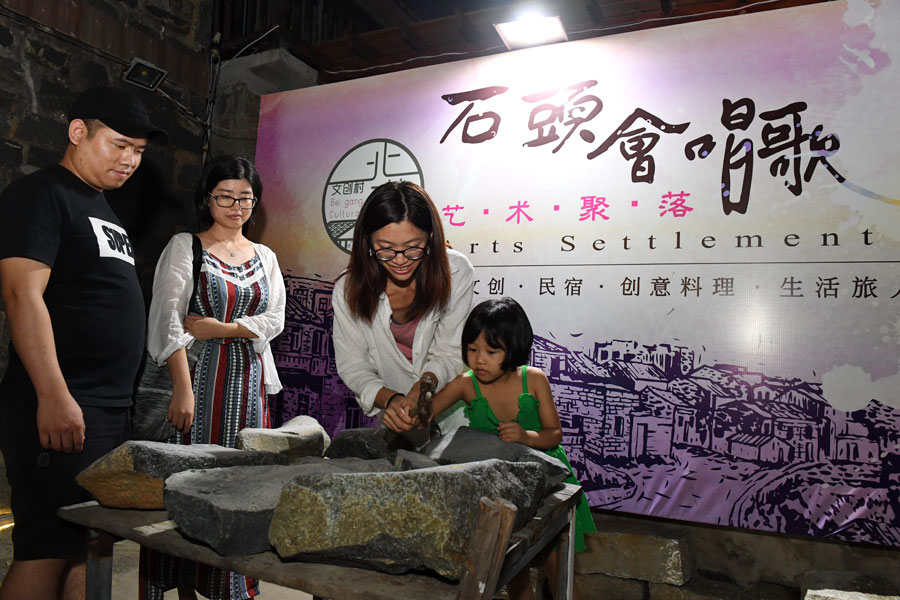 East China's Fujian province is committed to becoming a preferred destination for Taiwan entrepreneurs and young talent wishing to seek opportunities on the Chinese mainland by introducing more supportive policies for them, according to a Fujian official.
Yang Xianjin, a member of the Standing Committee of the Provincial Party Committee, made the remark at a sub-forum specially dedicated to Taiwan entrepreneurs and young talent on Sunday during the 11th Straits Forum, held in Xiamen, Fujian province.
He said Fujian will continue to take the lead in sharing reform and development opportunities with Taiwan compatriots, as well as promoting smooth economic and trade cooperation, infrastructure connectivity and equal industry standards.
The province will also make sure public services for Taiwan compatriots will be equal and more convenient in order to encourage more young Taiwan adults to work or start businesses in the area, he said.
"We will do a good job in providing practical services that relate to the interests of Taiwan talent to make them feel assured while living and working in Fujian," he added.
Many Taiwan entrepreneurs said Fujian province is a good place for them to work and start businesses, thanks to the preferential measures released by both the local and central governments.
"These measures set the stage for young Taiwan adults to develop a career, and Xiamen treats Taiwan compatriots equally and serves Taiwan compatriots as it does mainland residents," said Chiu I-fan, founder of Shengya Biotechnology Company, located in Xiamen Biomedicine Park.
Chiu is one of the entrepreneurs who attended the Straits Forum, where many other entrepreneurs and young adults shared their experiences studying, living and working on the mainland. More than 10,000 people, the largest number since the first event in 2009, from different sectors in Taiwan signed up for the gathering, and 50 percent were young Taiwan adults.
Chiu came to work in Xiamen in 2009. Having served as a manager in several local companies, he decided to set up his own in December after learning of the "good policies". He said new businesses can enjoy reduced rent, and their research results can be greatly rewarded, which is "great news" for entrepreneurs.
Last year, the Taiwan Affairs Office of the State Council issued 31 measures to make sure Taiwan residents can enjoy equal treatment and services while studying, living, working and doing business on the mainland.
Following the central policies, many provinces, cities and regions across the country released more specific measures to make sure the services are well-rounded. As the province closest to Taiwan, Fujian is one of the leading areas to implement 66 measures during the 10th Straits Forum last June, and Xiamen also implemented another 60 covering economic exchanges and cooperation, social and cultural exchanges, studying and internships, employment, entrepreneurship and personal life.
For example, Xiamen is the first area on the mainland to carry out accreditation of Taiwan vocational and technical qualifications, making Taiwan residents employed in the mainland as professionally recognized as their mainland counterparts, which Chiu said would help him find more like-minded partners.
Xiamen also granted a living allowance of up to 1.5 million yuan ($216,000) to Taiwan special experts and up to 5 million yuan to entrepreneurs selected into the "Double Hundreds Talent Program"-a plan set up by Xiamen in 2010 to attract 100 overseas high-level skilled workers and 300 leading entrepreneurs.
"Xiamen has a good business environment and is very friendly to businessmen from Taiwan," said Chen Chin-yu, chairman of Xiamen NAF Electronics company. He came to Xiamen in 2014 and set up his own company in 2016 not only because of the city's affinity with Taiwan, but also because of the broad market in the new materials sector.
"Plus, the government service is open, transparent, pragmatic and efficient, making us Taiwan businessmen feel very tempted to come," he added.
The sub-forum also saw 75 cooperative projects signed in various areas including entrepreneurial base, medical big data, internet of things operation management, modern agriculture, big health industry, creative culture, environmental protection, e-commerce, intelligent manufacturing and semiconductors.