Pot smuggled from North America rises
Share - WeChat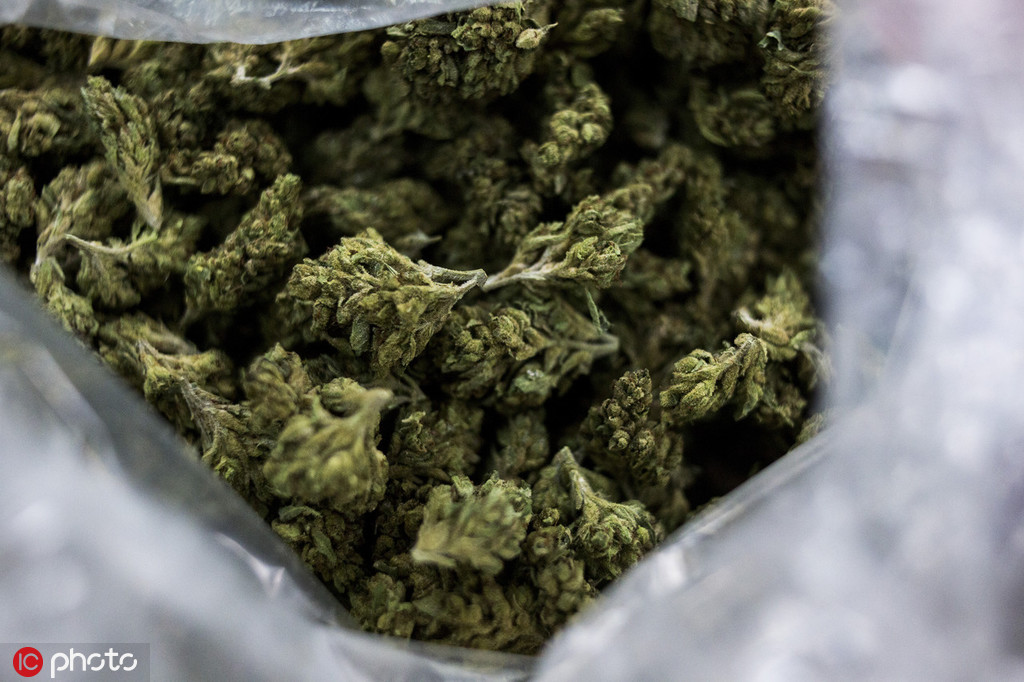 Nation uncovers 125 cases of cannabis trafficked to big cities via post last year
Cases involving cannabis smuggled from North America rose significantly last year, posing a new threat to China, the China National Narcotics Control Commission said on Monday.
Since Canada legalized recreational pot use last year and several states in the United States have legalized cannabis for recreational or medicinal use, the number of cases of cannabis smuggled from North America has seen a sharp rise, said Liu Yuejin, deputy director of the commission, though comparative figures were not provided.
Last year, China uncovered 125 cases of cannabis being smuggled into several major cities via international post, and authorities seized 55 kilograms of cannabis and cannabis products, the commission said in a report on China's anti-drug campaign in 2018.
Liu said the suspects were mostly foreign students studying in China, Chinese students who have returned after overseas study and people with overseas work experience.
"They usually bought cannabis on the internet from overseas drug dealers, then transported it by international express delivery," he said.
In addition, some offenders in China learned cannabis-growing techniques from overseas websites, then bought seeds from illegal channels and sold the finished product in China, he added.
"We have strengthened intelligence sharing and cooperative investigations with relevant countries to seriously fight against transnational drug smuggling and trafficking," said Liang Yun, director of the Narcotics Control Bureau under the Ministry of Public Security.
In addition to North America as a rising source, the Golden Triangle and the Golden Crescent in Southeast Asia remained the two top global drug sources for China as the country borders the two areas.
The Golden Triangle straddles Laos, Myanmar and Thailand, while the Golden Crescent is located at the crossroads of Central, South and Central Asia. More than 80 percent of the drugs illegally consumed in the Chinese market come from the Golden Triangle, according to the ministry.
Last year, China seized 29.6 metric tons of drugs from the Golden Triangle, up 17.6 percent year-on-year, including 4.6 tons of crystal meth and 1.4 tons of ketamine, Liang said.
Ninety-two cases of heroin imports from the Golden Crescent were uncovered in China last year, with 67.8 kilograms of heroin seized, down 33.4 percent year-on-year, he said.
Although the amount of seized heroin declined, drug traffickers have been exploring new trafficking routes into China, including direct routes through border areas in the Xinjiang Uygur autonomous region and via air from the Middle East, Southwest Asia and Africa to Guangdong province, Liang added.
Liu said China will work closely with foreign counterparts on crossborder drug trafficking cases to smash trafficking rings and shut down distribution.