Links between Tibet and Nepal boosted
Share - WeChat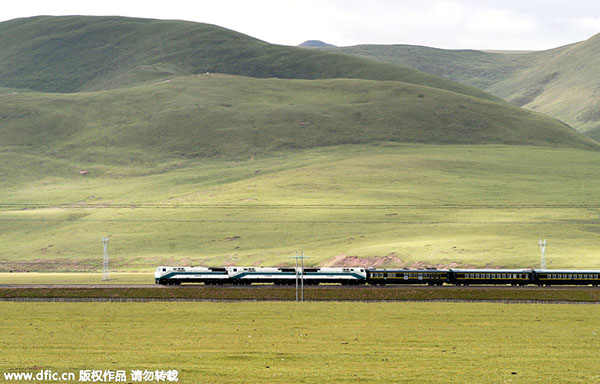 Railway that will connect countries touted as potential game-changer
The Belt and Road Initiative is unleashing the Tibet autonomous region's potential as a "golden gateway" shared with South Asia, according to Nepalese experts who attended the 2019 Forum on the Development of Tibet, which concluded on Saturday.
Nepalese participants said they are particularly hopeful about sharing the benefits of mutual development, since China and Nepal plan to enhance connectivity, especially through agreements to construct a cross-border railway linking Tibet's Shigatse city with Kathmandu, Nepal's capital, that was signed last summer.
"Previously, most of Tibet's economic growth came from the central government," said the secretary-general of the Nepal Institute for Strategic Studies, Rupak Sapkota.
"Now, it is partnering with neighboring countries ... for economic development and sustainability."
Tibet's economic growth has ranked among China's highest for years, and about 90 percent of Tibet's exports went to Nepal in 2017.
The autonomous region's trade with Nepal grew by 4.6 percent last year.
Projects such as the Gyirong-Rasuwa Port in the border city of Shigatse, agreed upon within the BRI framework in 2017, and plans to enhance connectivity by rail, highways, telecommunications and air, have bolstered Nepal's hopes of further engaging China generally and Tibet specifically through the initiative.
The railway will be a gamechanger, said Chet Nath Acharya, who has worked for a Nepalese-language news service in Beijing for six years.
"Tibet is very important for Nepal, and Nepal is very important for China," he said.
"Tibet is doing big business with Nepal. But the problem is Tibet isn't producing the goods."
The goods being traded across the border came from further inland in China, he said. But if the BRI creates sufficient development, Tibet will be able to establish huge industries, and the goods will be able to go to South Asia via Nepal.
The chairman of the Trans-Himalayan Friendship Society of Nepal, Rajiv Kumar Jha, praised the expansion of ties in recent years and expressed hopes of even broader cooperation through the BRI.
The initiative also provides new opportunities for cultural and people-to-people exchanges, Nepalese experts said.
Jha pointed to religious tourism's potential.
"This spiritualism, if connected by road and air routes, will be more beneficial," he said.
Acharya expressed hopes for enhanced links via the trans-Himalayan "cultural corridor".
"The Shakyamuni Buddha was born in Nepal. He got enlightenment in India. And Chinese people believe in Buddhism - in Tibet also," Acharya said.
"So, if the cultural corridor links China, Nepal and India, it'll be very useful and significant."
He pointed out people in Tibet and Nepal share similarities such as attire, food and festivals, including celebrations of Losar, the Tibetan New Year.
Nepalese participants said visits to villages, towns, schools, nursing homes and religious sites in Tibet's capital, Lhasa, and the city of Nyingchi in the days before the forum enabled them to witness the autonomous region's development firsthand.
"As an outsider, we used to read about Tibet and had a different idea about Tibet," Sapkota said.
He had visited the region years ago, when returning to his home country from Beijing, where he studied for seven years and earned a doctorate in international relations from Renmin University of China.
"When I came here and interacted with the local people, I was impressed by more than the infrastructure," he said.
"We see the livelihoods of the people and the educational (institutions). When we get to go inside their homes and buildings, we can see their quality of life has been improving."
Acharya said he was impressed by the vast transformations since he visited Tibet in 2006.
"We saw people have cars. They have fridges. They have televisions. They have very sophisticated lives," he said.
"That means Tibetan people's socioeconomic status is very high. When we went to the remote area in Nyingchi and other places, even in very high-altitude areas, people are very happy."