Culture lovers dress to impress
Share - WeChat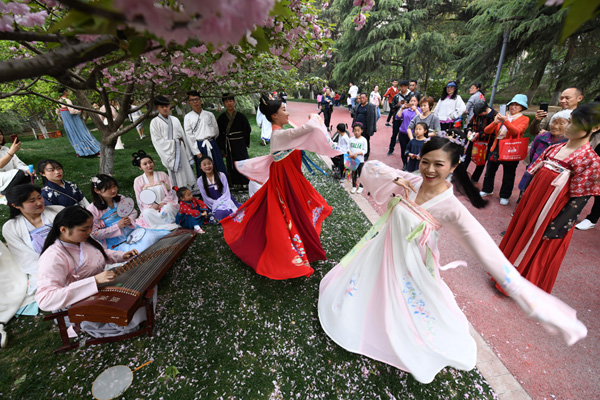 Enthusiasts rush to buy traditional clothing representing Han ethnicity
About 300 days a year, 25-year-old Zhou Zhiluo wears long, flowing robes with big sleeves, a skirtlike lower garment and a belt at her waist. Her long hair is tied in a variety of intricate styles, including loose buns.
"I feel quite myself wearing hanfu," said Zhou, referring to the term coined by internet users to describe clothing worn by Han Chinese before the Qing Dynasty (1644-1911).
"I'm proud that we Han people have such beautiful traditional clothes," said Zhou, who hails from Henan province, adding that she has been wearing such clothing for about six years and has more than 200 outfits in her closet.
Wearing hanfu costumes and reviving the culture has become increasingly popular, especially among the younger generation.
A recent report by major e-commerce platform Tmall said that last year purchases of the costumes rose by 92 percent year-on-year. People from Chengdu, capital of Sichuan province, made the highest number of such purchases.
Mo Li, chairman of the Sichuan Hanfu Association, said the revival started in about 2005 when a question was raised during online debate.
Netizens said Japan has the kimono, South Korea the hanbok, and other Chinese ethnic groups have traditional costumes that are worn on special occasions. So why did present-day Han Chinese have no idea about clothing to represent their cultural heritage?
"People then started looking into the history books and researching Han people's clothing," Mo said. "They found that they had a traditional costume dating back thousands of years, but this disappeared when the Manchu started ruling around the middle of the 17th century."