Energy cooperation key to bilateral trade boom
Share - WeChat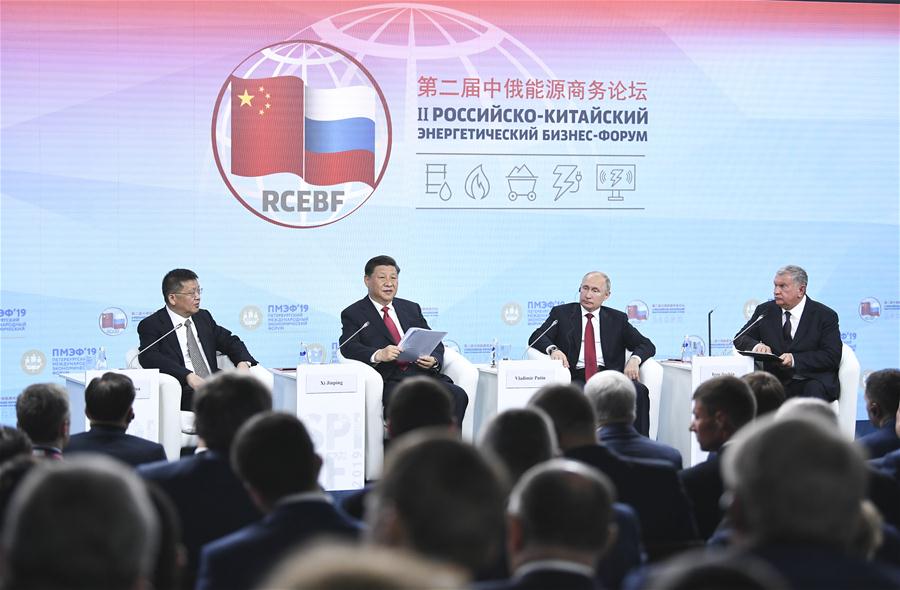 Deeper energy sector cooperation between China and Russia is expected to drive the development of foreign trade between the two countries, industry analysts said.

With the second line of the China-Russia oil pipeline entering commercial operation in January last year, four Russian VVER-1200 nuclear reactors to be built and more imports of liquefied natural gas from the Yamal project in Russia's resource-rich Arctic region, the two sides are expected to set record highs in bilateral economic trade this year.

Trade between Russia and China soared by nearly 30 percent to a record $107.06 billion last year, according to China's General Administration of Customs.

Luo Weidong, head of the Eurasia Department at the Ministry of Commerce, said bilateral trade reached $33.17 billion in the first four months of this year, up 5.8 percent year-on-year, and the momentum is expected to continue for the rest of 2019. The two sides have made substantial progress in the fields of oil, gas and nuclear energy, he said.

Trade between the two countries is expected to maintain its momentum, with more cooperation in fields of energy including nuclear, oil and natural gas, said Li Li, energy research director at market consultancy ICIS China.

China and Russia are expected to deepen cooperation in nuclear power plant construction, with subsidiaries of State-owned China National Nuclear Corp and Russia's State Atomic Energy Corporation, or Rosatom, to soon sign a contract worth a total of $1.7 billion to collaborate on construction of two Russian VVER-1200 units at the Xudabao power plant in Liaoning province in the near future, CNNC said recently.

Construction of the first unit will start in October 2021, with work on the second to begin in August 2022. The project is part of a Sino-Russian agreement to build four nuclear reactors in China at a reported cost of some $3.62 billion-the biggest nuclear energy deal between the two countries in the past decade. The two other reactors will be built at the Tianwan power plant, in Jiangsu province.

The two sides are also stepping up cooperation in oil and gas trade and new energy.

China National Petroleum Corp, the country's biggest oil and gas company, told China Daily earlier that it signed an agreement with Novatek, Russia's top independent gas producer, in April to buy a 10 percent stake in its new liquefied natural gas project, Arctic LNG 2.

China National Offshore Oil Corp, the nation's largest producer of offshore oil and gas, has also purchased a 10 percent interest in the Arctic LNG 2 project, the second-largest onshore conventional natural gas project led by Novatek.

China already owns nearly a third of Novatek's Yamal LNG project, with CNPC holding 20 percent and the Silk Road Fund 9.9 percent.

Novatek CEO Leonid Mikhelson said China represents one of the key markets for its LNG, and Arctic LNG 2 will be a game changer in the global gas market.

Cooperation in energy fields has been deepening in the past six years, with a large number of landmark energy projects successfully implemented, said Zhang Jianhua, head of China's National Energy Administration. He gave the examples of the Yamal LNG project and the second line of the China-Russia oil pipeline. The pipeline has an annual capacity of 15 million tons and is expected to double China's annual imports of Russian crude oil to 30 million tons.

With the China-Russia East-Route Natural Gas Pipeline expected to go into operation soon, Sinolink Securities' Resource and Environment Research Center said it expects Russia's market share in China's gas market will increase.

The pipeline to China, which makes up the eastern portion of Russia's "Power of Siberia" pipeline and runs from eastern Siberia to northeastern China, will begin operation this year.

According to the Ministry of Commerce, Sino-Russia trade has grown significantly in recent years. Bilateral trade totaled $84.07 billion in 2017, up 20.8 percent from $69.52 billion in 2016.

Luo said bilateral trade has been gradually expanding from border regions to inland and coastal regions in recent years, with the two sides actively exploring fields beyond their traditional areas of cooperation in energy, agriculture and infrastructure, including equipment manufacturing, business logistics, cross border e-commerce, technological innovation and tourism.