In praise of chia
Share - WeChat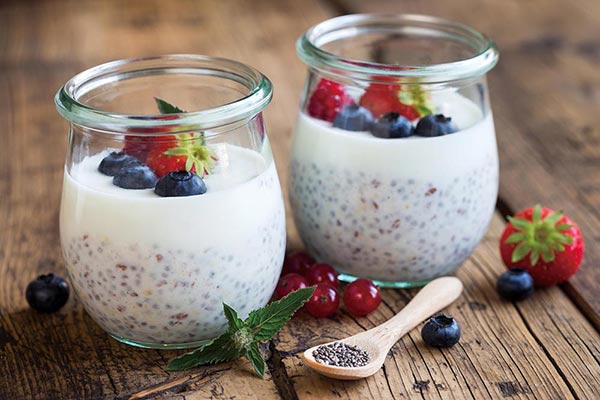 If you've ever lived in North America, you're likely familiar with Chia Pets, those kitschy terracotta figurines in the shape of animals, trees, movie characters and even US presidents. As the TV commercial tells it, you simply soak your piece of pottery in water, spread the chia seeds on top and then watch them sprout green "fur" over the next week. As a kid, having a low-maintenance fluffy pet to look after is great fun – but did you know that you can eat chia seeds too? They're incredibly healthy, as they are a rich source of protein, omega-3 fatty acids, the B vitamins and more than a few essential minerals… and they're low in calories, too. Chia is also hydrophilic, absorbing up to 12 times its weight in liquid – and that's important to know if your bowels have been moving slowly.
The chia plant, Salvia hispanica, is a species of the mint family that is native to Central America. Historians believe that chia was as important a food crop for the Aztecs as maize. Today, chia is grown from Arizona to Argentina and comes in two varieties: black and white, both of which have the same nutritional value.
Fortunately for us in Hong Kong, chia seeds are now widely available at health food stores and online shops. Because they're tiny, a little goes a long way – but because they're so delicious and nutritious, you may find yourself ordering a few packages at a time before long. They can be sprinkled on top of your morning cereal or rice congee, or thrown into your smoothie for an added protein boost. Unlike flaxseed, which needs to be ground up before being eaten in order to benefit from the nutrients, chia seeds are easily absorbed and digested whole. There have been reports, however, of people choking on them because of their hydrophilic quality. To get around that, be sure to drink a glass of water after eating chia seeds or soak them in liquid for about 15 minutes before you eat them. They'll start to develop a gelatinous coating, which will aid in their digestion.
My new go-to dessert recipe is chia pudding. It's healthy, simple to make and amazingly delicious. If your family is finicky about trying out new healthy foods, don't tell them it's chia until after they've taken their first bite.
Chia pudding with fruit compote
1½ cups of milk (substitute soya milk, almond milk or coconut milk as desired)
½ cup chia seeds
2 tbsp maple syrup (or less, to taste)
1 tsp vanilla extract
3 cups blueberries, strawberries, peaches, nectarines or other fruits
2 tsp white sugar (or less, to taste)
1 good glug (as Jamie Oliver calls it) of balsamic vinegar
- In a bowl, add all the ingredients for the chia pudding. Mix together and refrigerate for a few hours.
-In a pot, add all the ingredients for the fruit compote. Mix together over low heat until the juices run from the fruit and start to thicken. Pour into a second bowl and refrigerate for a few hours.
-After the mixtures have sufficiently chilled, add the chia mixture to the top of the fruit compote and return to the refrigerator until you want to eat it.
-The pudding will stay fresh for about five days – but it tastes so good, it will probably be eaten well before then.

Most Popular