Building more clinics will boost healthcare
Share - WeChat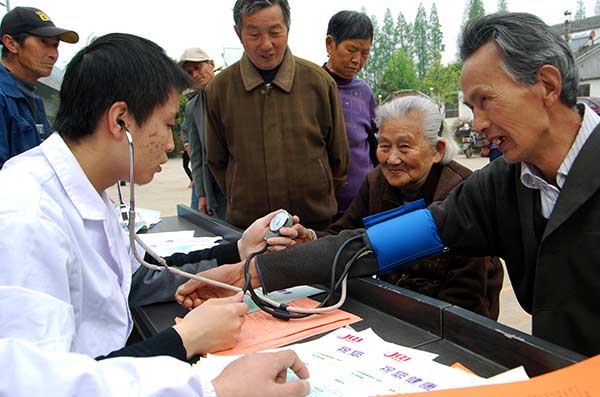 Circular encourages cities to assist doctors in setting up new practices
Major cities are being urged to simplify the setting up of clinics by qualified doctors to help ensure universal healthcare.
A circular released last month by several central government departments including the National Health Commission to authorities of 10 cities including Beijing, Shanghai and Guangzhou - said they should take more measures to encourage doctors to set up clinics, support their development and improve supervision to ensure the safety and quality of medical services.
To simplify setting up clinics, applicants in the 10 pilot cities will no longer need to gain approval from health authorities. Instead, qualified applicants can just register with local health authorities and provide services after getting a license, the circular said.
Authorities should encourage qualified physicians, preferably those who have at least five years' experience in practicing medicine at medical institutions and have at least an intermediate professional title, to open clinics full time or part time, the circular said.
Authorities in the 10 cities should encourage clinics to provide primary healthcare services through various means, including subsidies, it said.
The guideline also said health authorities should intensify supervision over the operation of clinics and their services to ensure safety and quality, and organize regular training aimed at clinics to improve their professionalism.
The pilot cities should carry out plans based on the circular before the end of September, and the experiences gained will be promoted across the country, the National Health Commission said.
Zhao Heng, partner of Shanghai-based medical consultancy company Latitude Health, said the measures will encourage the more skilled and experienced doctors to open up clinics, which will gradually improve the quality of services.
"Many of the existing clinics that cannot provide high quality services will be eliminated from the market, and the new ones to be established will be able to provide higher quality services," he said.
Unlike in big cities, where hospitals play a greater part in providing healthcare services, clinics still play a very important role for healthcare in rural areas, but their services need to be improved to meet the demand, Zhao said.
Upgrading clinics will also help China to advance the ongoing healthcare reform, which aims to provide universal healthcare services to all residents through more equal distribution of medical resources, he said.
"Insufficient ability of medical institutions at the grassroots, including clinics, has been a major obstacle to promoting healthcare reform," he said. "Higher standard clinics will make them more prepared to work with major hospitals in cities to provide quality healthcare services."
Although clinics have played an important role in healthcare services at the grassroots, they face problems such as lack of talent, which restricts them from providing quality services, the National Health Commission said. On average, every clinic has only 2.6 doctors and nurses, and most of them only have a junior professional title, the commission said.
Zhang Qiang, founder of a Shanghai-based medical group, said the new measures will not result in a sudden increase of private clinics in these cities, as doctors still need approval from their primary employers, such as the hospital where they work, before they can open a clinic. Doctors in China generally have an employment contract with a hospital or clinic rather than practice medicine independently.
However, the new measures will promote talent flow and the sharing of medical resources, which will contribute to more equal healthcare services to the whole population, he said.