Higher standards set for local baby formula
Share - WeChat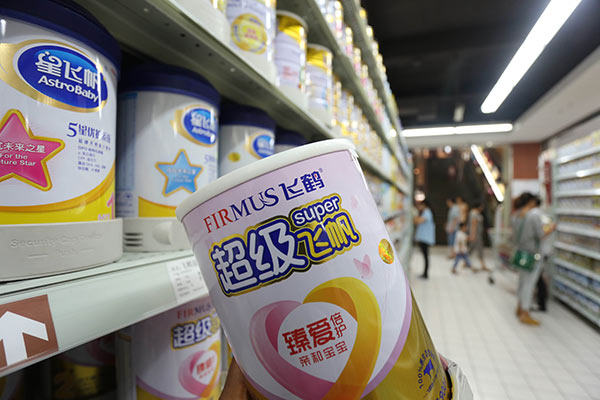 Domestic companies encouraged to develop new products for market
The quality of domestic baby formula is expected to keep improving to meet the demand from domestic consumers, according to a plan released on Monday by seven central government departments including the National Development and Reform Commission.
Authorities will adopt strict standards to supervise the sector, and will urge producers to adopt even higher standards than the minimums, the plan said.
Meanwhile, enterprises and institutes will be encouraged to work together on the research and development of new baby formula products to meet market demand, it said.
Increased competitiveness in the industry will help in the promotion of large scale and automated production, the merger of small companies, and encourage domestic companies to buy or develop farms overseas to reduce costs, for example for improved technology or land.
Authorities will also encourage foreign enterprises to set up ventures in China to help increase supply to the domestic market.
With the adoption of the plan, baby formula produced domestically is expected to account for more than 60 percent of the total supply, and consumers' confidence in domestic products will be significantly improved, the plan said.
Public faith in domestic dairy brands slumped in 2008, after a major domestic producer of baby formula was found to have adulterated milk with melamine, an industrial plastic, which made the products appear to have more protein. It led to the deaths of several babies, and tens of thousands of others became sick.
Following the incident, the government intensified supervision over the sector, including inspecting every batch of baby formula before they could be sold. About 99.8 percent of baby formula available on the domestic market meets national standards, according to a survey conducted last year by the State Administration for Market Regulation.
Song Liang, a senior dairy analyst based in Beijing, said that despite the improving quality of domestic products, public faith in domestically produced baby formula has still not fully recovered. Last year, domestically produced baby formula only accounted for about 40 percent of the products sold in terms of weight, he said.
"With highly strict supervision over the past 10 years, quality problems in domestic baby formula have become history," he said. "There is no difference in terms of quality and safety of baby formula products between domestic and overseas brands."
Chinese enterprises need to do more to improve public trust over domestic products, including improving public education, he said.