Feihe Dairy pursues commitment to quality
Share - WeChat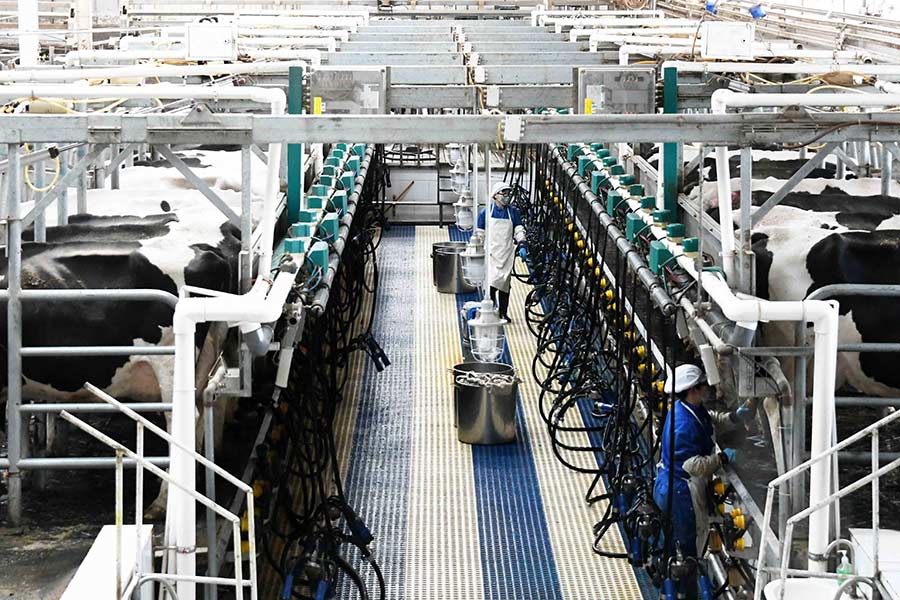 Company upgrades industry chain to include farming and manufacturing
Feihe Dairy, a domestic leader in infant and toddler formula production, insists on its commitment to quality and diligent innovation in scientific research.
Feihe, which was established in 1962 and based in Qiqihar, a city in Northeast China's Heilongjiang province, is among the longest-operating dairy brands in China.
To better control product quality, Feihe upgraded its comprehensive industry chain to encompass farming, manufacturing and sales. The company has established a two-hour manufacturing and delivery cycle to ensure fresh milk is processed within two hours and has set up a system to dry fresh milk and deliver it to consumers in nine to 28 days.
"Each cow is equipped with a wearable device on its neck, so the staff can monitor feeding conditions, rumination and the animal's movement through data analysis," explained Xu Hongbo, an assistant manager of a Feihe pasture located in Heilongjiang's Gannan county.
"If the staff find abnormal conditions like high body temperature and heart rate, they'll immediately quarantine the animal," Xu said.
"Domestic dairy enterprises are facing stiff competition from international companies. Better safety and quality are vital for domestic brands to match the scale of foreign competitors. This will boost consumer confidence while improving competitiveness globally," said Leng Youbin, chairman of Feihe International Inc.
On May 24 2018, Feihe won the gold prize for the fourth consecutive year at the Monde Selection held in Valencia, Spain. The Brussels-based Monde Selection, founded in 1961, tests and evaluates consumer products from around the world with its unique quality label.
"We can clearly see Feihe's pursuit of high quality," said Patrick de Halleux, chairman of Monde Selection, at the awards ceremony. "I believe it's a good reason for more Chinese consumers to choose Feihe."
"As a part of the Chinese dairy industry, we can participate in international competition only when our research, development and technical ability reach a world-class level," Leng said.
Feihe continues to attract the top scientific research experts in the industry and has built a research and development platform with the cooperation of top international institutions.
On Nov 18, 2014, Feihe founded its nutrition laboratory at Beth Israel Deaconess Medical Center in Boston, a teaching hospital affiliated with Harvard Medical School in the United States.
The laboratory aims to research how the nutritional need of infants at different stages of brain development, intestinal health and nutritional absorption, as well as adults at different ages, can be met.
The laboratory also studies the health risks and nutritional interventions of obese infants and diabetic mothers. On May 16, 2015, Feihe launched a Beijing-based research and development center of the laboratory.
In cooperation with domestic scientific research and medical institutions, the lab gathered top international experts and scholars from the center, to establish a set of scientific, reasonable and standardized nutrition research models.
In 2017, Feihe established a baby milk powder factory in Kingston, Canada, to share its rich production experience, R&D strength, equipment and technology. The factory has aided in the development of infant milk powder in Canada.
In September 2018, Feihe and the China National Institute of Standardization launched a fresh formula standards system to narrowed the gaps between domestic dairy producers and international leading players.
As a result, Feihe Dairy is now the top domestic milk formula brand in the Chinese market, and is gaining on foreign brands.
The company's revenues grew 60 percent year-on-year in 2017, while sales of its high-end products jumped 200 percent. The company recorded sales of 11.5 billion yuan ($1.7 billion) in 2018, making it the first domestic company in the industry to reach more than 10 billion yuan in sales.