International horticulture expo promotes capital's eco-friendly drive
Share - WeChat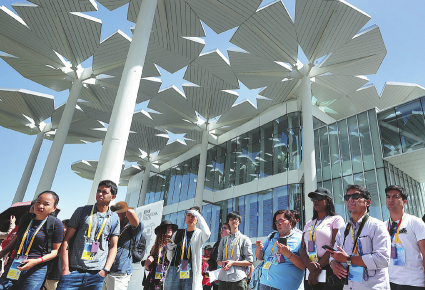 Ahead of the ongoing Conference on Dialogue of Asian Civilizations, overseas journalists visited the Beijing International Horticultural Exhibition on Tuesday, to learn about the capital city's drive to promote more eco-friendly lifestyles.
Co-organized by the conference's news center and the Beijing Information Office, the tour took in the featured horticulture and iconic architecture of China and its capital, as well as the diverse horticulture featured in countries around the world. More than 60 reporters from 50 media outlets of 30 countries including Pakistan, Afghanistan, Costa Rica and Argentina joined the tour.
With the theme of "live green, live better", the 503-hectare horticultural expo opened on April 29 and will run until Oct 7. More than 80 countries and international organizations have built 41 outdoor exhibition areas, comprised of 34 independent exhibition parks and seven jointly-built exhibition parks.
The Chinese Pavilion, which covers 15,000 square meters, is a major landmark at the expo, where 31 provincial regions from the Chinese mainland have displayed their distinct cultures ranging from Beijing's traditions, Tianjin's villa buildings and the Xinjiang Uygur autonomous region's Silk Road culture to Sichuan province's bamboo culture.
Sone Thaw Tar Win Pyae, a journalist from Myanmar International Radio, said the expo is an ideal venue to see a city and a country's landscape.
"This is my second time in China, but the first time for me to take part in such an activity. It is amazing," she said.
"I'm really impressed by the Chinese Pavilion. The Shaanxi section also reminds me of my first visit to Xi'an."