Revisiting classics
Share - WeChat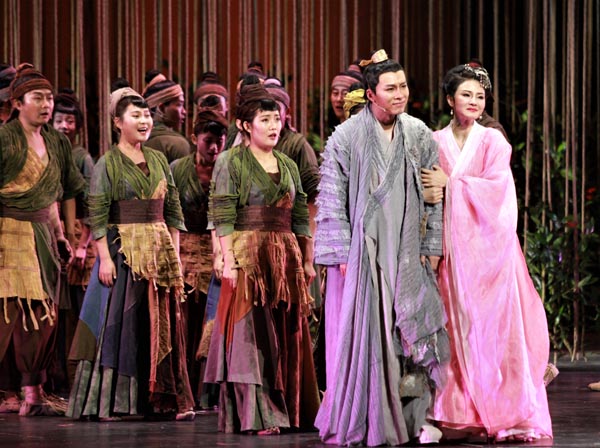 Finally, the musical, entitled Shi Jing Cai Wei, or A Homesick Warrior, premiered at the Tianqiao Performing Arts Center in Beijing on Oct 20, attracting about 4,000 people. A new, revised version will run at the same venue on May 18 and 19 as part of the ongoing Meet in Beijing Arts Festival, the Chinese capital's largest annual cultural event.
According to the producer, the theme of Shi Jing will be developed into a trilogy of musicals, showcasing traditional Chinese culture from different aspects, such as farming, customs and etiquette. The musical also aims to attract young audiences.
Singers Li Weipeng, Jiang Shuai and Jiang Qianru play the leading roles in the musical, which tells the story of three childhood friends, one of whom grows up to become a military general.
"It is a story of sacrifice and love for family and the country," Zou, 44, says.
Over 20 original songs have been written for the musical. They are accompanied by a symphony orchestra and traditional musical instruments, such as the pipa (four-stringed Chinese lute) and guzheng (Chinese zither).
The composer calls the musical "poetic".
Most Popular