Foton's commercial focus steers brand toward success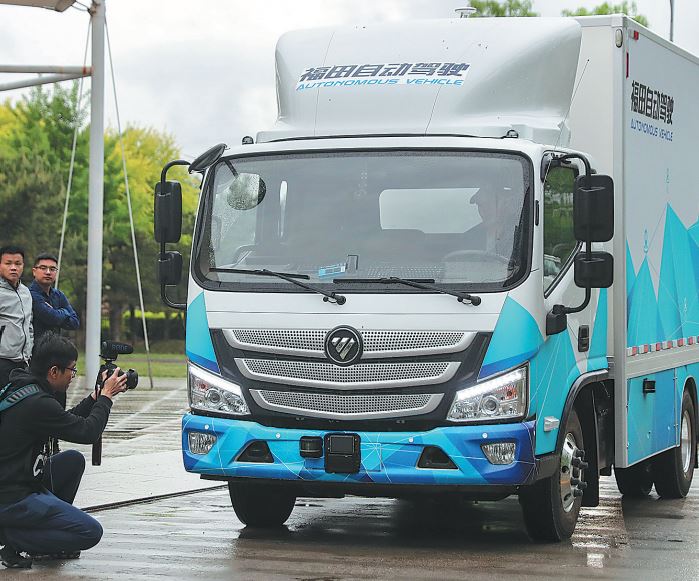 Foton Motor Group's strategy of focusing more on commercial vehicles is producing promising results, with its business revenue in the first quarter of this year growing 50 percent year-on-year to over 14 billion yuan ($2.07 billion).
The strategy has driven its profits in the three months to grow by more than 80 million yuan compared with the same period last year, according to statistics the Chinese automaker released in late April.
The results came three months after it sold a majority stake in Borgward, a passenger car brand it purchased in 2014 but failed to make a success in the Chinese market.
"The results, especially selling off the passenger car business, marked the preliminary achievement in our strategy," said Foton President Gong Yueqiong. "We will focus all our resources on our commercial vehicles, which will be key to our future strategy as well."
Gong said the good business performance is thanks to Foton's efforts in upgrading its commercial vehicles ranging from light to heavy trucks over the years, and in cutting costs in sales and management.
A total of 131,000 vehicles were sold from January to March, up 11.8 percent year-on-year, lifting the group's market share by 1.3 percentage points to 11.5 percent.
"Our strategy is clear. We improve products and operation, and meanwhile increase investment to sharpen our competitive edge," said Gong.
He said Foton's investment in research and development in the first quarter went up 27 percent year-on-year, adding that similar expenditure last year doubled from 2017.
The company will invest 2.8 billion yuan over five years in R&D facilities.
Foton is one of the first commercial vehicle makers to develop new energy vehicles and autonomous driving.
It is offering electric, hybrid and fuel cell vehicles, covering light trucks, vans and pickups, and has received licenses to test autonomous driving on public roads.
Yang Guotao, a vice-president at Foton, said the carmaker expects its sales of new energy vehicles to reach 100,000 in 2025, which is believed to be a turning point for their growth.
Foton is planning to strengthen its overseas presence as well. In the first quarter, it exported 13,000 vehicles, topping the list of Chinese commercial carmakers.
Zhang Xiyong, Foton chairman, said the company's overseas sales will reach 100,000 vehicles in 2020, accounting for 15 percent of its total deliveries.
Foton has established a number of plants overseas. Late last month, it inked a deal with Charoen Pokphand Group to set up a new joint venture to produce vehicles in Thailand for sales across the ASEAN region.
The new company will make a broad range of vehicles, with Foton providing the technology.
Foton said it is confident in future growth prospects in Southeast Asia, targeting a top three position in Thailand.