Beijing adds 2,790 new energy buses
Share - WeChat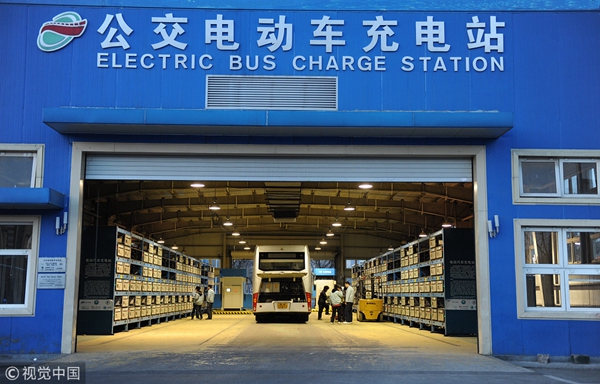 Beijing added 2,790 new energy buses as the first such major batch order in China was delivered Monday.
With these additions, Beijing is on pace to make 93.7 percent of its city buses new energy and clean energy vehicles by the end of this year, according to Zhu Kai, general manager of Beijing Public Transport Corporation (BPTC).
The buses were delivered by the Chinese automaker Foton Motor Group, and they include both pure electric and hybrid models. One model is the 12-meter pure electric bus with an 80-passenger capacity. It can travel over 180 kilometers on a single charge and can be fully charged in 15 minutes using a "double-barrel" quick charge method.
According to Zhu, BPTC placed orders of a total of 6,466 Foton AUV buses for 10.1 billion yuan (about US$1.5 billion) from 2016 to 2018, among which 4,966 are new energy buses. Overall, the company has delivered close to 10,000 new energy buses to BPTC to boost Beijing's efforts toward green transportation.
The Foton AUV buses now running on various routes in Beijing can help to reduce carbon dioxide emissions in the city by at least 900 tons per day, the equivalent to the daily amount absorbed by 700 trees, said Zhang Xiyong, general manager of BAIC Group and chairman of the board of Foton Motor.
According to the 13th five-year plan of BPTC, new energy or clean energy buses will gradually replace the obsolete gas-fueled ones. BPTC estimates that by 2020, the city's electric buses will exceed 11,000, which is more than 50 percent of its bus fleet; by the end of 2020, all buses in Beijing's downtown area and the city's sub-center will be powered by electricity.